As temperatures across the province start to drop, the BC SPCA is encouraging people who are thinking about adopting a furry family member to consider cats, and turn brrrs into purrs during its upcoming adoption event, presented by Hill's® Science Diet®: From Nov. 24 to Dec. 5, all adult cat adoption fees are 50 per cent off.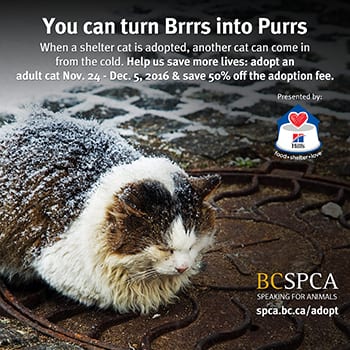 "We're reminding British Columbians that when one cat is adopted, it frees up shelter space and allows us to bring another cat in from the cold," says Lorie Chortyk, BC SPCA general manager of community relations. "The society takes in several thousands of cats each year – right now, there's more than 1,600 felines in BC SPCA care who need loving, forever homes."
Homeless cats are a major issue in B.C., often suffering from injury, illness, predator attacks and frostbite. Illegal abandonment and animals who aren't spayed or neutered contribute to the problem, as well as cats without permanent identification like a microchip or a tattoo, who are never reunited with their guardians.
Chortyk notes the adoption fee includes vaccinations, spaying or neutering, permanent ID, any necessary medical care, and internal and external parasite treatment. Normal adoption counselling and matching takes place to ensure animals go to a good home, and Petsecure provides six weeks of free pet insurance.
All cats are microchipped, and for only $12 annually or a $45 lifetime fee, the animal will be registered in the province-wide BC Pet Registry, bcpetregistry.ca, to help ensure if a pet is lost, he can be found and reunited with his family.
"We're excited to have the Hill's Food, Shelter & Love® program continue to support these adoption events that encourage pet guardians to find their new best friend," said Joe Giles, General Manager of Hill's Pet Nutrition Canada.
"Our message is 'Together Forever,' and Hill's® Science Diet® pet food along with the loving care provided by the BC SPCA makes cats healthier, happier, and ready for their forever home. We're proud to provide food for all the BC SPCA's cats and dogs and a free bag to guardians upon adoption to ensure a lifetime of good health."
The British Columbia Society for the Prevention of Cruelty to Animals is a not-for-profit organization reliant on public donations. Our mission is to protect and enhance the quality of life for domestic, farm and wild animals in B.C.