It's been a hot, dry summer so far in British Columbia, and while there's plenty of fun to be had under the sun, it's important to think about your furry family member(s). While humans can choose to go inside or seek shade if it's a warm-weather day, pets don't always have that option.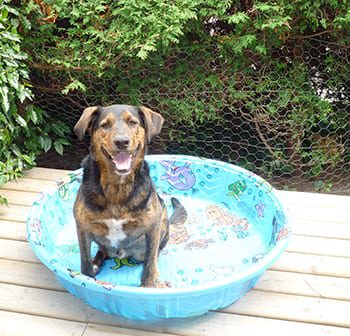 "Our pets often depend on us to make those choices for them," says BC SPCA manager of animal welfare Kim Monteith. "For example, if you regularly bike or jog with your dog, be conscious of when you're doing it – if it's a hot day, the pavement will be very hot."
Choosing to exercise with your dog earlier in the morning or later in the evening, when it's cooler will be nicer for you and your pet, and will reduce the chances of your pet getting heatstroke, she notes.
"Be aware of your pet and what they might need," she advises, listing several items pet guardians can take with them to the beach, on a hike or camping if accompanies by their furry friends.
"Bring along a water bowl and water, and umbrella for shade, a towel – both to dry off your pet and to give them an option of a place to lie down that's not scorching hot," Monteith says.
Another trick is to freeze food or treats, such as the popular Kongs, or ice cubes with chicken broth, for your pets, and keeping a kiddie pool full of cool water for their use.
"Make sure they really are having a good time and are able to get out of the sun," she says. "And if you go out, leave them at home – leaving them in a car, even if it's in the shade with windows rolled down, can lead to heatstroke or worse in just minutes. Leaving them at home is the kindest thing to do."
Learn more at spca.bc.ca/hotpets.
The British Columbia Society for the Prevention of Cruelty to Animals is a not-for-profit organization reliant on public donations. Our mission is to protect and enhance the quality of life for domestic, farm and wild animals in B.C.