Several toy Yorkshire terriers will be available for adoption at the Sunshine Coast SPCA, following a cruelty investigation and seizure in early April. Kept in small crates and cages, the 11 tiny dogs will need loving homes and a lot of love and patience, says BC SPCA Sunshine Coast Branch manager Cindy Krapiec.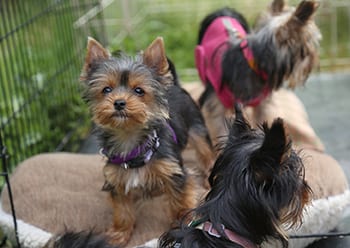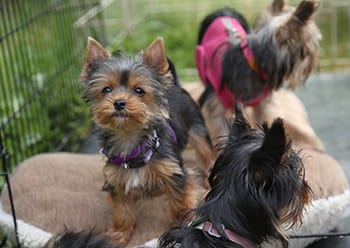 "When they came into our care, some had never walked outside before, so when we take them outside to go to the bathroom, we have to be careful of their tender little paws and even wrap them so they don't get hurt," she says. "Because of their background, they're all quite fearful and none of them are housetrained, so we're requiring interested potential adopters to attend one of two information sessions we're holding this weekend."
Ranging in age from 16 weeks to seven years, the terriers will need specific care, such as strict attention to dental health, and potential guardians will need to be aware of their varied needs, Krapiec notes.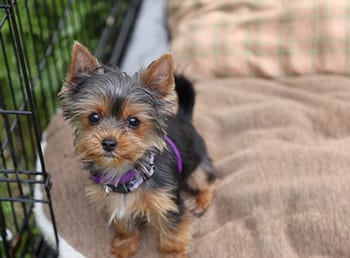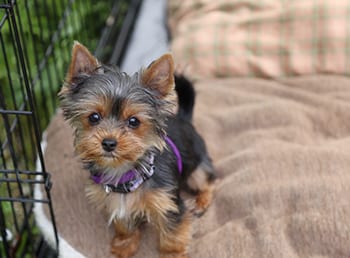 "We are truly grateful to everyone who might be interested in adopting these dogs, but we want to make sure that anyone putting in an application fully understands the care that will be required to meet their ongoing physical, behavioural and psychological needs," she says. "Some of them are just starting to come out of their shell, and with proper care and attention, these dogs all have a wonderful future – we just want to make sure that people understand the commitment they are taking on."
Interested parties can register for the Sunday information sessions online; one is at 11:30 a.m. and the other is at 2:30 p.m.
When taking in so many dogs, the medical costs add up fast, Krapiec says, adding that all of the dogs had to have spay or neuter surgery, several needed dental surgeries and care, and many of the toy Yorkies were badly matted when they first came into BC SPCA care, requiring careful cleaning and grooming.
The total medical costs for the seized dogs is estimated to be nearly $10,000, putting a huge strain on a small shelter's resources. A non-profit organization, the BC SPCA relies primarily on public donations to support its life-saving work in helping the province's most vulnerable animals, including these tiny toy terriers.
"We just want them all to have bright futures in happy, forever homes, with guardians who are aware of all of their needs," Krapiec says.
If you can help the toy Yorkshire terriers and other animals like them in need at the Sunshine Coast BC SPCA Branch, please visit spca.bc.ca/medicalemergency or donate in person, at 4376 Solar Rd., Sechelt.
The British Columbia Society for the Prevention of Cruelty to Animals is a not-for-profit organization reliant on public donations. Our mission is to protect and enhance the quality of life for domestic, farm and wild animals in B.C.