Allergies took a devastating toll on his body. Bogey, a shar-pei, came to the BC SPCA suffering from so much inflammation that his skin, which should have been loose and wrinkled, was swollen tight and uncomfortable. This gentle and loving dog was also losing the fur on his lower body.
"Unfortunately, Bogey has a lot of allergies," says Kahlee Demers, manager of the Maple Ridge BC SPCA. "He has food allergies and is also allergic to a number of environmental factors."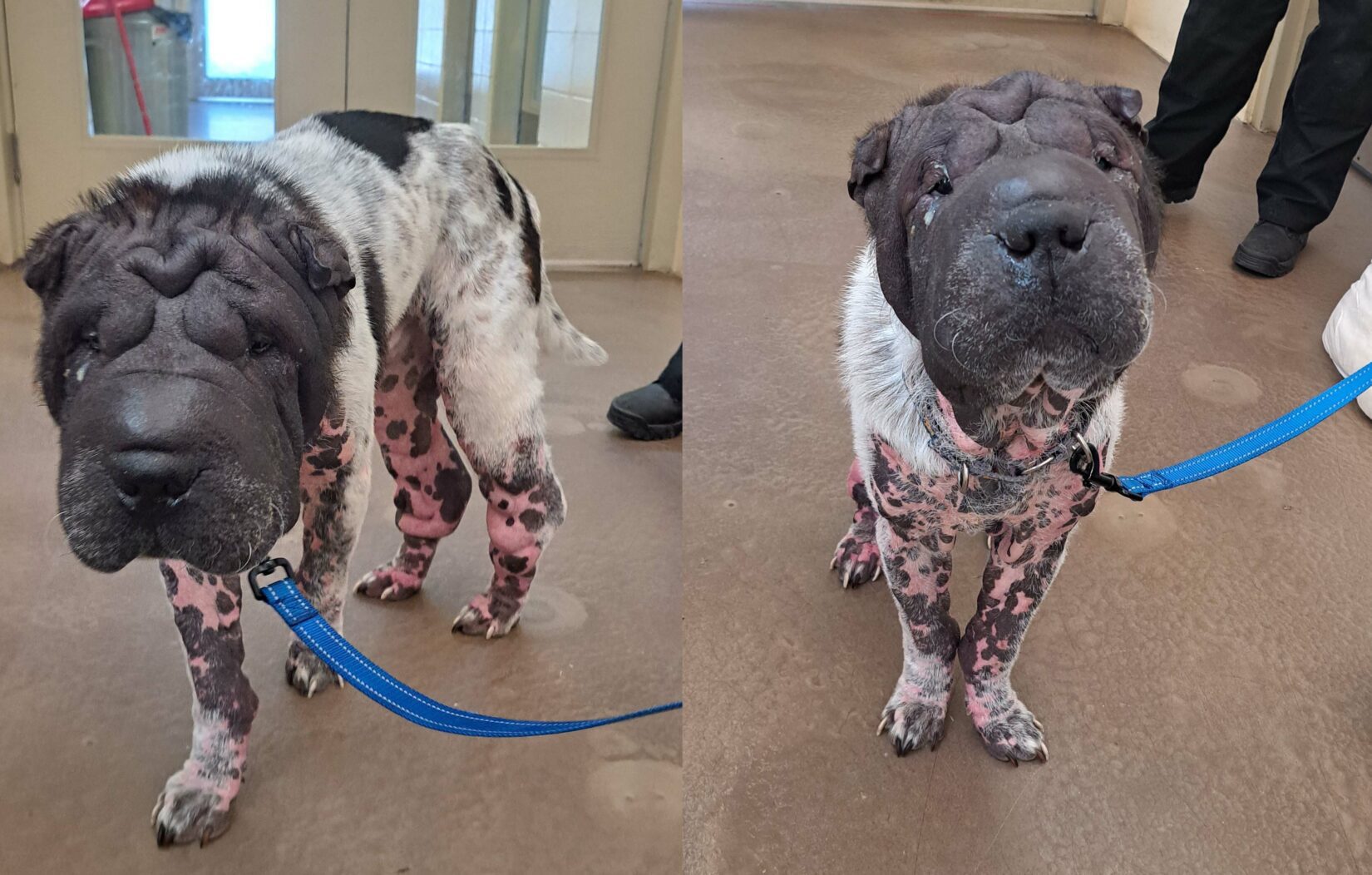 A team of vets put together an allergy prevention plan that includes a monthly allergy shot, daily allergy medication, and scheduled vet visits to monitor his progress. Bogey also started a very special diet containing specific proteins.
"Shar-peis have very sensitive skin which is prone to many skin-related issues," says Dr. Kyla Townsend, veterinarian with the BC SPCA. "Allergies are one of them, but because of the folds in their skin, they are also susceptible to fungal infections, folliculitis and skin irritation."
"Bogey is an incredibly sweet boy who loves to be around people," says Demers. "Since he has been on the appropriate allergy medication he is feeling much better and has come out of his shell. This adorable house hippo will follow you around wherever you go."
To continue his healing Bogey needed a foster that had experience in caring for a shar-pei. Melissa, who had been a pawrent to a shar-pei named Buluxi, looked like she would be the perfect fit. "The first time I met him I could tell he was special," says Melissa. "Even though he was recovering from the inflammation caused by his allergies, he was so welcoming. Everyone at the shelter loved him and couldn't wait to tell me little tidbits like how social he was, how much he loved people, they had nothing but positive things to say about him."
Melissa adds that on the second visit, she brought her four-year-old son Richard to meet Bogey and it was love at first sight. "It was like they had known each other forever," she says. "Bogey immediately ran up to Richard and gave him a little lick." Their third trip to the shelter was to take him home to foster and then adopt him. "Bogey had this smile on his face when he saw us, he was so happy and excited, and he seemed to know what was happening."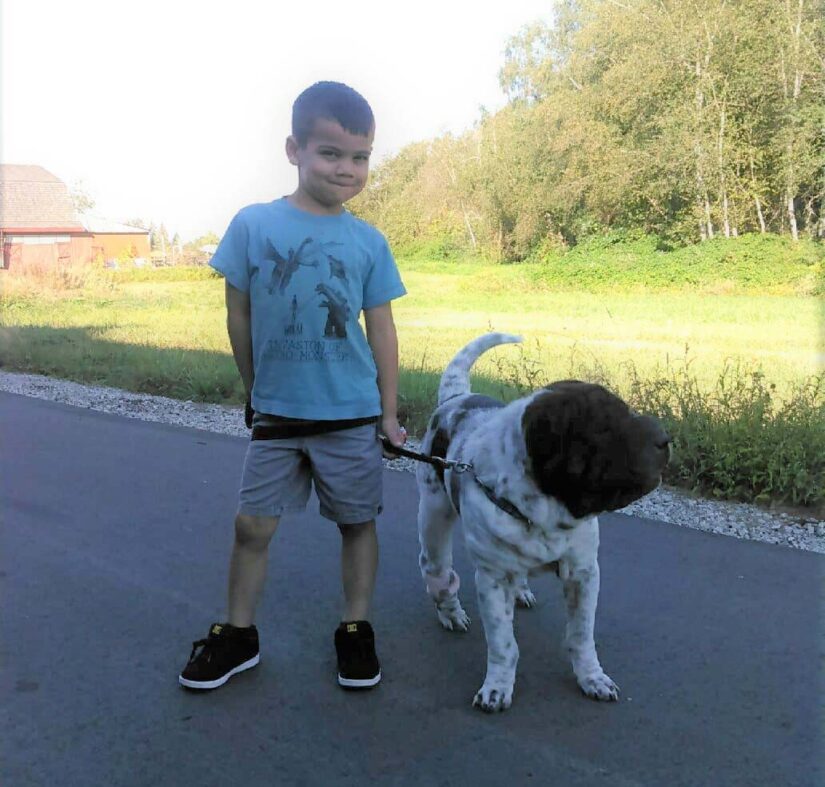 Melissa developed a plan to help Bogey heal. "A lot of the smell that comes with the breed is because of the yeast in their ears," says Melissa. "I have an ear and eye cleaning regimen that I do every morning for Bogey and I also wipe the folds in his skin. His smell is definitely improving." Melissa also checks his paws because there is still some swelling in them. "When we go for a walk, I make sure to wipe down his feet when we get back home," she says. "His skin continues to improve. In the spots where his hair hasn't grown back, it is going back to its natural skin tone. He is doing so well."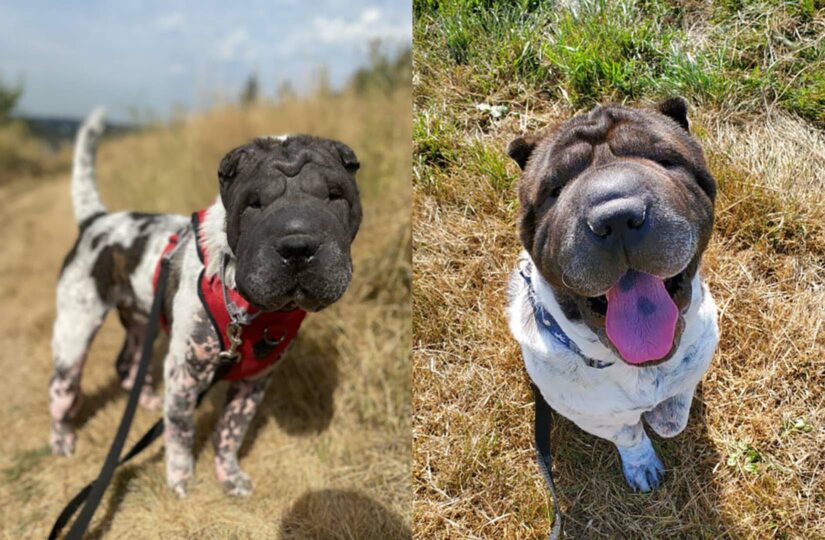 When asked about Bogey's most interesting trait, Melissa does not hesitate. "I had never heard Bogey bark when I went to visit him in the shelter, so the first time I heard him being vocal it was just like him, special and charming," she says. "It is not a bark or a whine; it is more like a seal bark. He does it when he is excited, ready to go somewhere, or he is ready for some playtime."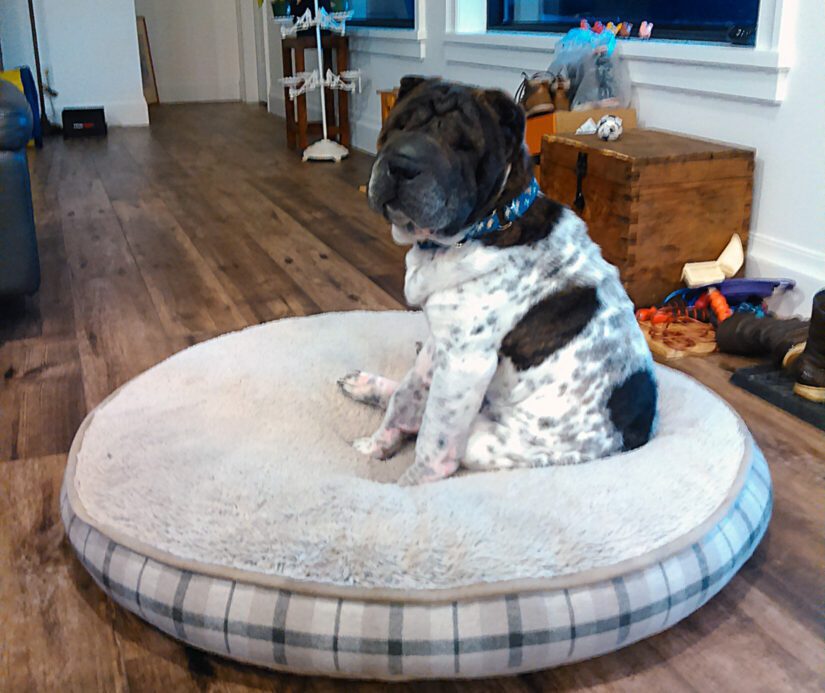 Melissa and her family are waiting for Bogey to be neutered and then they are going to apply to adopt him. "Having Bogey in our home has been better than I could have ever imagined. He and Richard have quickly become best friends," says Melissa. "When we walk with Bogey, so many people have asked me how long we have had him, and when I tell them we have had him for about a week, they are always surprised – they think we have been together forever. It's like he has always been part of our family."