The province's most vulnerable animals rely on the helping hands of volunteers at the society's 43 locations across the province, every day. With National Volunteer Week happening April 10-16 in Canada, the BC SPCA is recognizing and honouring its nearly 4,000 volunteers, who do everything from caring for shelter animals to helping with social media accounts, photography, or even office tasks like filing and data entry.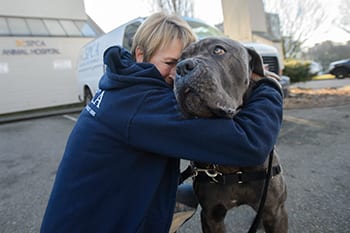 "Our volunteers are truly inspiring! They never stop impressing us with their amazing dedication to the animals, their work ethic, positive attitudes and passion for the BC SPCA's mission," says Michelle Rodgers, BC SPCA manager, volunteer resources. "In 2015 our volunteers graciously gave 129,420 hours of their time, drastically impacting the level of care and welfare provided to thousands of animals that entered our shelters each year."
Two recent large-scale seizures from dog and cat breeders in Langley and Surrey highlight the incredible contributions of our volunteers. While each and every volunteer's job is important, two volunteers who've been helping with the seized animals non-stop took the time to share why they volunteer at the BC SPCA.
Caroline Carson started volunteering at the BC SPCA Vancouver Branch four years ago after retiring from nursing. Her regular volunteering schedule has been three days a week, until the Langley dogs came in; she now spends almost every day at the shelter caring for them.
"I had never been so sad or so angry in my life," Carson recalls about first seeing the seized dogs. Many of the dogs and puppies came into BC SPCA care suffering from broken limbs, missing ears and eyes, infections and abscesses, malnourishment, dental disease, severe fur matting, fur caked in dried feces, overgrown nails and psychological issues. "You wouldn't recognize them now from when they came in," she says.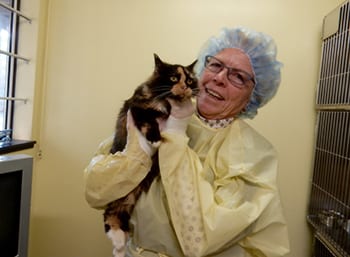 Because the animals were suffering from ringworm and other parasites when they were rescued, Carson and the other volunteers have spent countless hours helping staff carry out extensive cleaning and biosecurity protocols required to keep the environment safe. Carson has also spent countless hours socializing with the dogs, to help them overcome their fearfulness and other psychological challenges.
Another volunteer who's been working overtime is Nancy Van Aggelen, who started volunteering at the Vancouver SPCA about three years ago, working with cats and small animals. When the Vancouver BC SPCA Branch took in some of the 67 cats and kittens from a Surrey breeder in February, Van Aggelen was there to help.
"[Their] Mom had tested positive for ringworm, so in hopes that she wouldn't pass it on to her kittens, the kittens were removed and put with another young Mom who had just weaned her litter," Van Aggelen said.
To ensure the kittens are enough to eat, Van Aggelen has been helping staff supplement the kittens with bottle-fed formula.
Most of the cats look like they're making up for lost time and soaking up all the attention volunteers are able to give, Van Aggelen says.
"I look forward to the time when we won't have to be gowned for ringworm protocols," she says. "To be able to hold them without making all the rustling noises of the gowns and touching them with ungloved hands; that is going to be a bonus time."
Without standout volunteers like Carson and Van Aggelen, the BC SPCA would not be able to carry out its life-saving work to help animals, Rodgers notes.
"We can't begin to thank all of our amazing volunteers enough," she says. "Each and every one is truly appreciated, and we hope they know how much they're appreciated, every single day of the year."
To find out more about how to volunteer at the BC SPCA, visit spca.bc.ca/volunteer.
The British Columbia Society for the Prevention of Cruelty to Animals is a not-for-profit organization reliant on public donations. Our mission is to protect and enhance the quality of life for domestic, farm and wild animals in B.C.