The start of a new year means many British Columbians make resolutions to improve themselves or their habits in 2016, whether that's eating healthier, exercising more, setting work-related goals or aiming to be more environmentally friendly.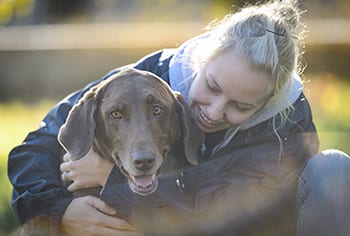 For B.C.'s animal lovers, here's some suggestions for 2016:
1. Get outside. Get yourself and your dog(s) off the couch and into the outdoors. Most dogs need walking at least twice daily to stay healthy and you will benefit too. If you don't have a dog, why not volunteer to walk dogs at your local shelter?
2. ID your pet and register. The SPCA reunites thousands of lost animals with their families every year, but many animals are never claimed because they have no ID. Ensure your pets have identification tags on their collar and a microchip or ear tattoo, register them with the BC Pet Registry at bcpetregistry.ca, and keep the contact information updated.
3. Get engaged! Like the BC SPCA's Facebook page and engage with us on all of our social media platforms, including Twitter, Instagram and Pinterest.
4. Sign up for Anim@ls. Be in the know when it comes to animal welfare news and how BC SPCA staff, volunteers and supporters are making a difference for animals across the province – sign up for the once-a-month Anim@ls e-newsletter today at spca.bc.ca/animals.
5. Shop with animals in mind. From easy walk harnesses to pet first aid kits and window decals that help wild birds avoid hitting your windows, there are plenty of items in the BC SPCA's online store for animals and animal lovers. Visit shop.spca.bc.ca today.
6. Adopt an animal. If you are considering getting a new pet make the BC SPCA or another animal shelter your first adoption option. Avoid buying pets from online sites — you may be supporting puppy mills by buying this way.
7. Make humane food choices. Commit to purchasing foods raised according to high standards of animal welfare. Look for SPCA Certified products in the meat and dairy sections of your grocery store. You can find out where to buy SPCA Certified products at spcacertified.ca.
8. Sign up for the BC SPCA Kids Club. Connect the young animal lovers in your life with other like-minded youth through an annual BC SPCA Kids Club membership ($15).
9. Donate your time or money. Help a homeless or wild animal get the care they need. Donations to the BC SPCA support cruelty investigations, sheltering, wildlife rehabilitation, education and advocacy. Or give of yourself – the BC SPCA simply could not function without the help of our nearly 4,000 amazing volunteers across the province.
10. Paws walk. Sign up for the 2016 Scotiabank & BC SPCA Paws for a Cause walk in your community this September and help us raise urgently needed funds for abused, homeless, neglected and injured animals.
11. Up your cupcake game. Take part in National Cupcake Day on Feb. 29 and help end animal cruelty one cupcake at a time. The money you raise baking and distributing cupcakes by donation will help the BC SPCA rescue, re-home and provide emergency services for injured and abandoned animals in B.C. Get involved by registering online at nationalcupcakeday.ca.
12. The fix is in. Help spread the word about the crucial importance of spaying or neutering pets. Thousands of unwanted animals are born in B.C. each year – often with tragic consequences. Find out more at spayneuter.ca.
Visit spca.bc.ca for more information on these resolutions and other ways you can make a life-saving difference for animals.
The British Columbia Society for the Prevention of Cruelty to Animals is a not-for-profit organization reliant on public donations. Our mission is to protect and enhance the quality of life for domestic, farm and wild animals in B.C.