Late last year, you showed the BC SPCA a ton of puppy love! There is so much good news to share about the puppies who came into our care and one amazing, super-mom.
Celeste and her puppies
Celeste was emaciated when she arrived at the Nanaimo shelter along with her five puppies. She had been abandoned by her owner and was living outdoors, starving, doing her best to feed her puppies and take care of them.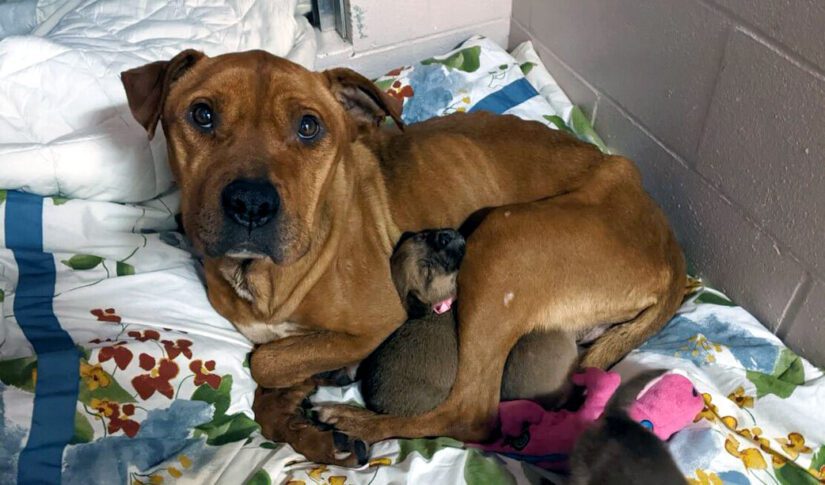 Now take a look at her!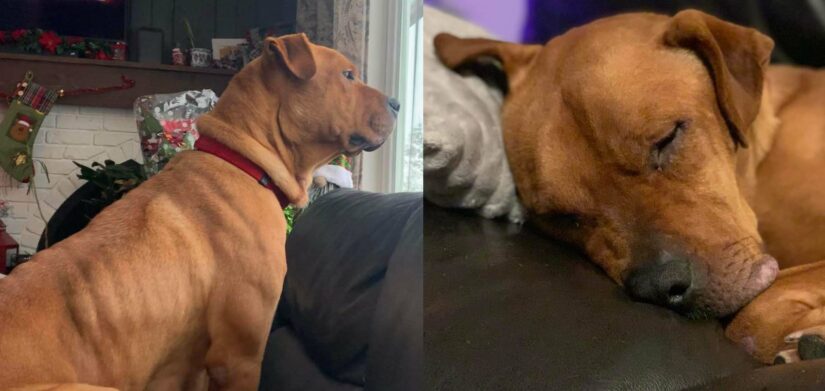 "Her foster family did an amazing job with her re-feeding program and she has gained 10 kg since Dec. 4," says Isabelle Watkin, animal care attendant, Nanaimo BC SPCA.
Her foster family says she is a happy girl who loves to snuggle on the couch, go for car rides and sit at the window dreaming of nicer weather. They have fallen in love with her and would keep her if they could, but they are excited for her to find her new forever family.
Celeste's puppies have all found their forever homes and Celeste is almost ready to do the same.
Captain Sparrow
Captain Sparrow was one of eight husky-mix puppies that arrived at the Nanaimo shelter along with their mother when the guardian recognized that the puppies had serious health issues.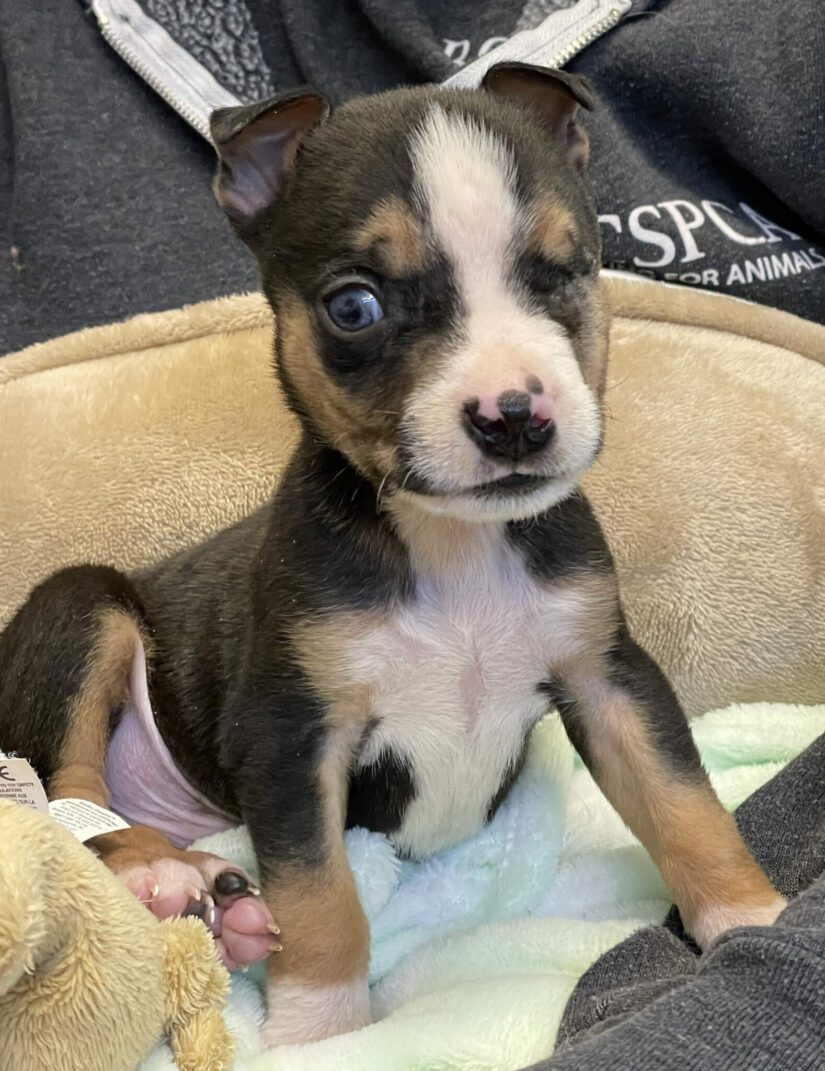 Captain Sparrow was suffering from an agonizing eye condition and had to have one eye removed. No one was quite sure how he would recover from the surgery and there was concern that he might lose the other eye as well.
Look at him now!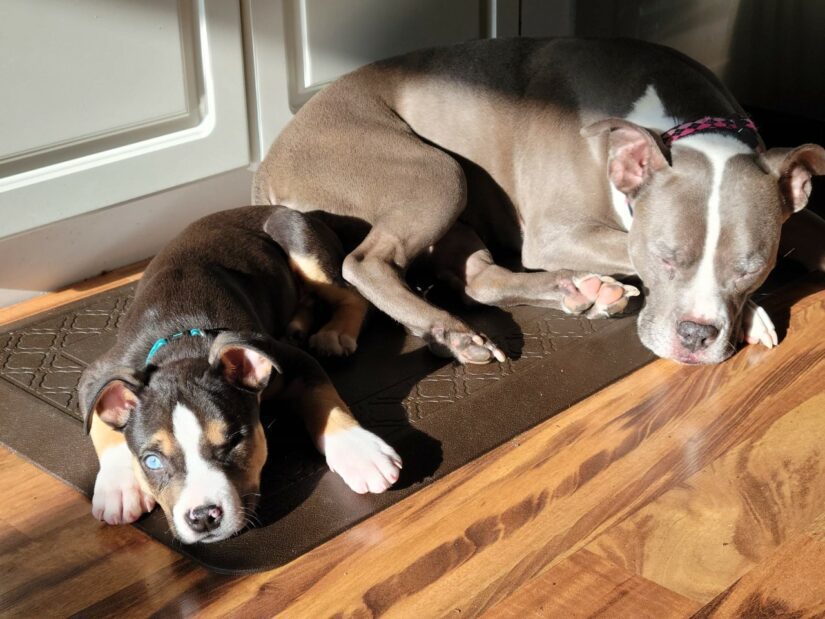 "The good news is that Captain Sparrow recovered from his eye enucleation very well and the other eye has developed beautifully," says Isabelle Watkin, animal care attendant, Nanaimo BC SPCA.
Watkin says they were so happy to watch him gain weight, strength, confidence, and become healthy enough to go into his wonderful new foster to adopt home.
"They are so in love with this super sweet little guy," Watkin says. "Captain Sparrow lives in a big family with lots of wonderful kids and he is lucky enough to live a short walk away from tons of great trails to adventure in."
"Adorable, roly-poly puppies"
After a request for assistance from the BC SPCA came in from the guardian, nine puppies from a surprise litter and their mother were taken into care at the Sea to Sky branch. A contest was held to name the puppies and the winning names honoured strong B.C. communities who showed resilience in challenging times.
Merritt
"Merritt loves his morning and afternoon walks in the trails, playing in the snow, and mealtime," says Mary Lou and Dave, Merritt's new parents. "He is a very social, very well behaved and very happy little dude – his tail is constantly wagging."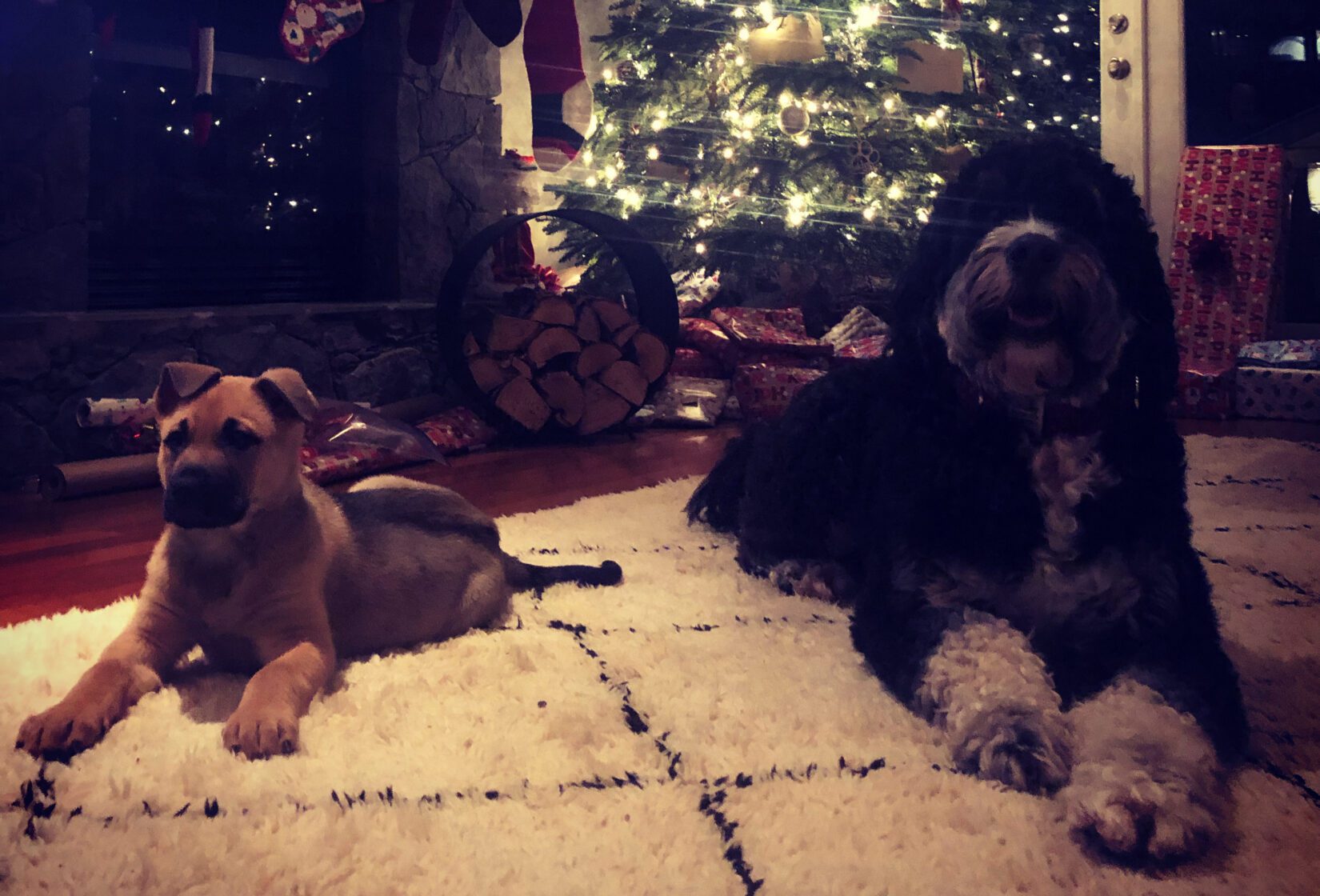 Merritt loves peanut butter and his favourite toys are his elephant rope toy, his squeaky orange ball and his Kong. Over Christmas Merritt met his cousin Oakley and he enjoys hanging out with his neighbour Rhino.
Hope now Rio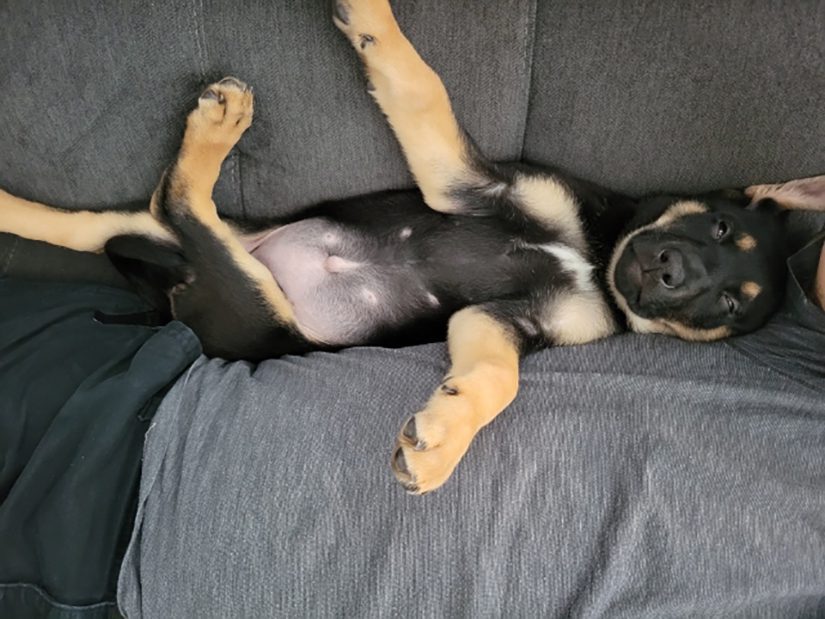 "She is very sweet and super active," says Cindy. "She is still trying to get used to walking on a leash and the first couple of minutes can be more of a push and pull, but once she gets moving she is off and running."
Princeton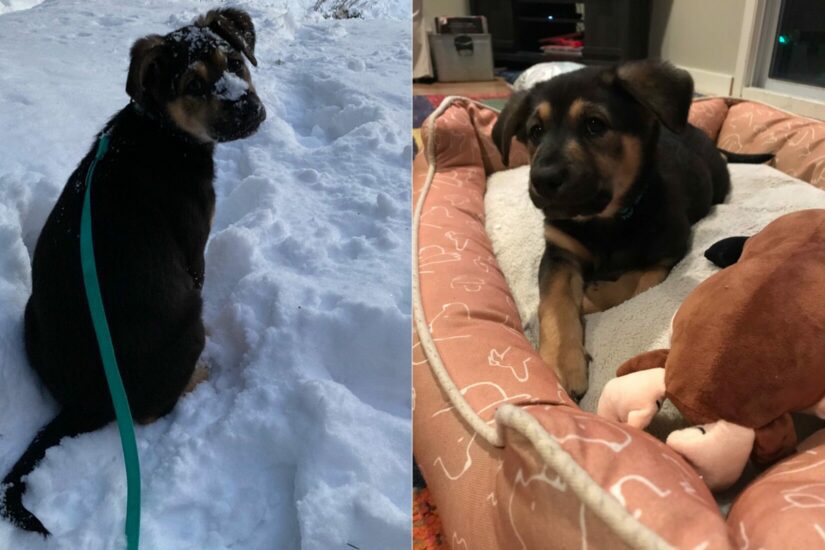 "Princeton is so sweet, we just love her," says Kelly, Princeton's new mom. "She's settled in so nicely. She loves our kids, our other dog and wants to play with our cat. She is a happy, energetic puppy."
Lytton now Rufus
Rufus' new family raves about how bright this little guy is and what a fabulous job his foster family did in setting him up for success.
"He knows sit, speak and give me five already," says Diane. "His potty training is going well and we are working on touch, down, spin and no."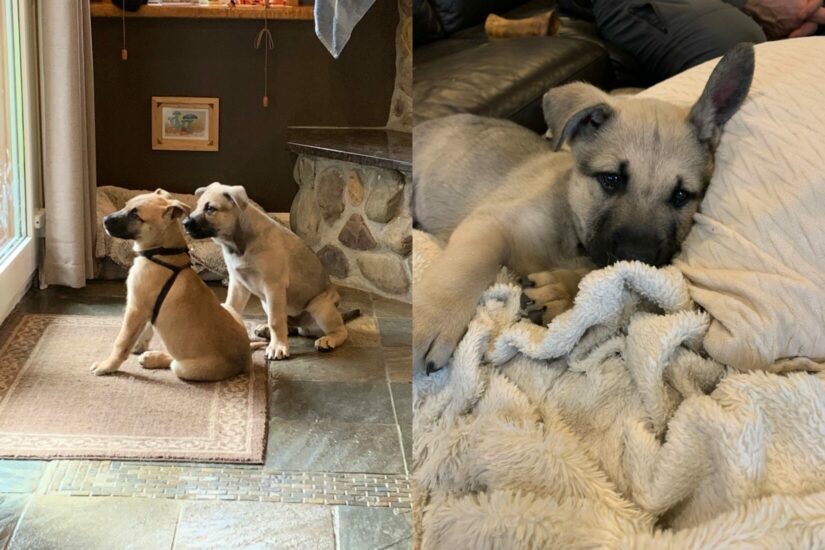 Rufus' forever family is so in love with him. They lost two of their three dogs in the last few years and love watching their dog Luna get used to the high energy antics of a puppy. The two have lots of fun together outside. Rufus is learning how to interact with his two BC SPCA alumni cat siblings and the stairs and has regular play dates with his brother Ralph who lives nearby.
"We have taken him to the local beach and on some mini-hikes in the forest," says Diane. "We recently took him on his first boat ride."
The family is looking forward to watching Rufus grow up. He is much larger than his siblings so they know he is going to be a big boy.
Chilli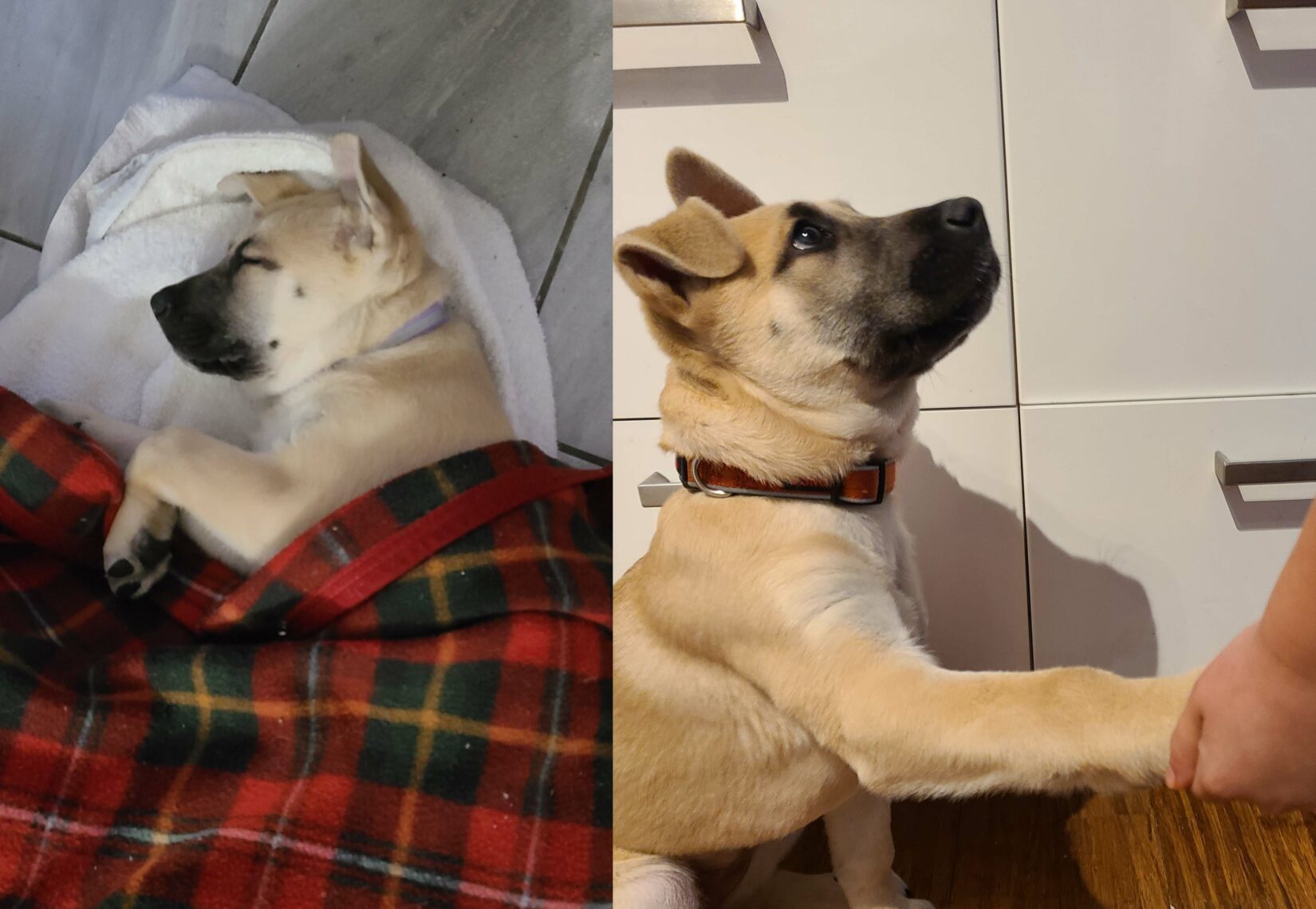 Chilli's new family named him and all of his brothers and sisters. They sent in the winning entries for the puppies' names!
"My husband and I had talked about adding a pup to our family for a while," says Ayelen. "We always said when the right one comes along, we will know." Once they saw the puppies they knew they had to apply to adopt one and are thrilled that Chilli is part of their family.
Ayelen says Chilli adjusted right away and absolutely loves her human brothers Josef, 8 and Oliver 7. She really wants to play with her kitty sisters but they aren't quite ready yet, but are getting used to having her around.
"Chilli is so smart and is really easy to train," says Ayelen. "She never cried out at night and seemed right at home from day one."
She says Chilli enjoys laying by the fireplace and her favourite toy is a sloth chewy which she takes with her everywhere. She does a happy dance at meal times and loves to play in the snow. She is so gentle with the kids who give her so many cuddles and play time.
"Chilli has brought so many laughs and wonderful memories already," says Ayelen.  "We love her so much!"
Sumas now Ralph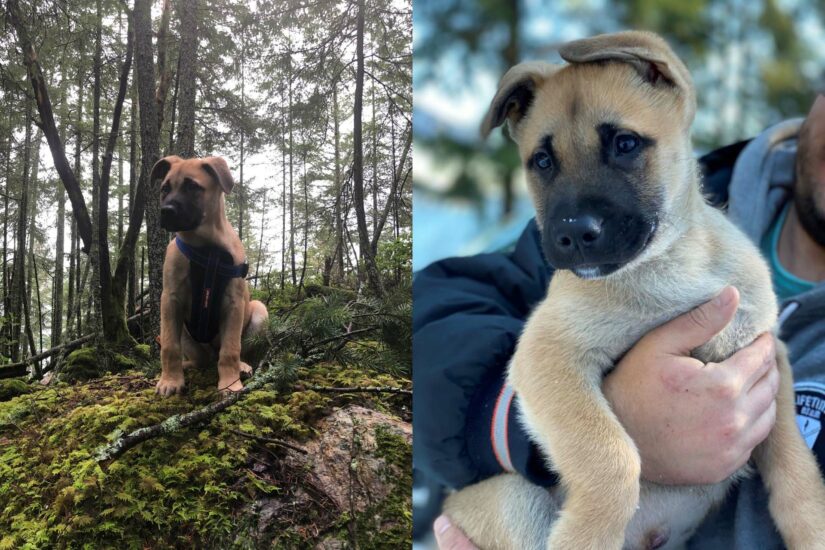 Ralph is living the dream spending lots of time with his forever family hiking in the forest and exploring the beach.
"He especially likes the forest," says Adam. "There isn't a tree stump he won't investigate."
Adam says that Ralph has a number of siblings living close by and has been playing with them almost every other day.
Thank you to all of our amazing supporters who gave these puppies the help they needed to live their best life!