The British Columbia Society for the Prevention of Cruelty to Animals (BC SPCA) has purchased a 5.5-acre parcel of land in south Surrey for a new community animal centre.  The property, located at 16748 50th Avenue between Highway 10 and 32nd Avenue, will be the site of what the SPCA hopes will be one of the largest and most innovative community animal centres anywhere in B.C.
The BC SPCA's Surrey Branch, one of 37 branches operated by the non-profit animal welfare society, is currently housed in the city-run pound on 152nd Avenue.  The SPCA was in the final stages of an agreement to construct a jointly operated animal shelter with the City of Surrey in Cloverdale when the city announced in the media last year that it was moving ahead without a community partner.
"Our first choice would have been to work with the city but they changed their plan and have not provided details to us with regard to any future involvement with the SPCA," said Craig Daniell, chief executive officer of the BC SPCA.  "The Surrey branch is one of our largest and busiest shelters so we have purchased our own site to ensure that we can continue to serve the residents and animals of the community."
He noted that the BC SPCA will honour its existing contracts with the city to care for animals who come into the municipal shelter under Surrey's animal control bylaws and is open to any discussions about future services to the city.
"We will operate our own facility focusing on our core SPCA mandate of animal protection and cruelty prevention, but are certainly open to assisting the city in other ways if they wish," said Daniell.
Daniell said the BC SPCA has begun a "visioning process" to determine the services and programs that will be offered at the new SPCA centre.  "The site has existing structures – two houses and numerous outbuildings – that can be converted for sheltering and adoptions, rehabilitation programs, youth and adult education and a wide variety of other purposes."
He said the SPCA envisions a unique, community-friendly complex where the public can come to view animals for adoption, take part in volunteer programs, attend education and training sessions on pet behaviour,  participate in fun animal-related community eventsand get involved in advocacy campaigns to help animals in need in Surrey.
"One idea that we're very excited about is the potential to have a farmers market or retail area on site featuring locally produced, humanely raised meat, poultry and dairy products from partners in our SPCA Certified labeling program," said Daniell.
"We will also be exploring partnerships and joint programming with other local groups that promote animal welfare and the human-animal bond."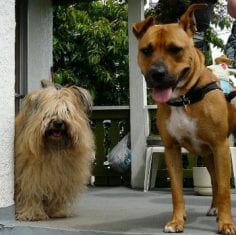 Daniell says the BC SPCA will develop programs that do not duplicate services offered by the city at their proposed new shelter.  "While the city's mandate focuses on stray animals and animal control issues, we will offer our core services of animal protection, sheltering, advocacy and education."  He notes that the BC SPCA is the only animal welfare organization in B.C. with the mandate and authority to respond to complaints of animal cruelty, a service that the BC SPCA will continue to provide in Surrey.
"We are extremely excited about the new site," said Daniell.  "Having this link between rural and urban allows us to create a unique setting where the community can come to learn about domestic and farm animals and to join with us in making Surrey a leader in animal welfare."
The BC SPCA hopes to be operating at its new site early in 2012.
Every year, the BC SPCA provides protection and care to more than 36,000 animals. Your gift can help give a homeless, injured or abused animal a second chance through our sheltering, education, protection and advocacy programs. Please donate today.
Photo caption: Mindy (left) was adopted from the Surrey Branch on April 12, 2010 and met with fellow BC SPCA alum Ginger (right) for a play date. 
The British Columbia Society for the Prevention of Cruelty to Animals is a not-for-profit organization reliant on public donations. Our mission is to protect and enhance the quality of life for domestic, farm and wild animals in B.C.