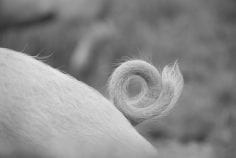 While some Canadians choose not to eat pork, millions of Canadians still do. The BC SPCA pushes for higher standards of care for pigs – to ensure that those pigs that are raised for food receive a life worth living and reach the end of their lives as peacefully as possible.
In the SPCA Certified program, our standards are centered around the Five Freedoms. We audit farms and approve those who are going above and beyond when it comes to animal welfare.
One of the differences you can notice if you visit an SPCA Certified pig farm  will be the sight of long curly pig tails everywhere you look. Curly pig tails are uncommon on many commercial farms because pig tails are cut short to prevent tail biting; a problem that results from the many stresses of living in a bare, crowded environment with nothing to do.
On SPCA Certified pig farms, routine tail docking is prohibited. SPCA Certified pigs are given more space to move around their home, they are never housed in stalls or crates and they have comfortable bedding to lie on.

Pigs spend nearly 50% of their day rooting the ground looking for food, having bedding and other enrichments in their environment encourages this natural behaviour and helps keep them from getting bored. Natural bedding also ensures any chewing is focused on their environment, not on other pigs' tails. On SPCA Certified farms, pig tails tell happy tales!

Meet SPCA Certified pig farmers