If you've been thinking of bringing a furry feline into your family, the BC SPCA is urging you to act "meow"!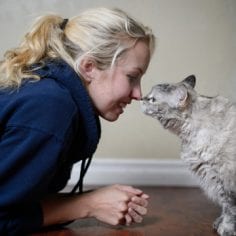 "We have been overwhelmed with the number of cats and kittens being surrendered or abandoned this summer and our shelters are struggling to find space for them all," says Lorie Chortyk, general manager of community relations for the BC SPCA. "Our northern shelters in Dawson Creek, Fort St. John, Prince Rupert, Quesnel and Prince George have been particularly affected by the influx of felines. We have a Drive for Lives transfer program which brings cats from northern shelters to the Lower Mainland and Vancouver Island for adoption but those routes have been impacted by the wildfires so we haven't been able to transfer as many cats."
Chortyk notes that added space pressure has been put on SPCA shelters because of 97 neglected cats taken into SPCA care in Victoria and Vancouver from two hoarding cases last week.
Anyone interested in adopting a cat or kitten is urged to view available animals at spca.bc.ca/adopt and to visit their local shelter. While all regular adoption counselling and matching procedures will be in place, many shelters are offering reduced adoption fees.