The BC SPCA is hoping a new television campaign entitled "Animals make us human" will remind people of the many ways animals enrich our lives and how important it is to cherish and protect them.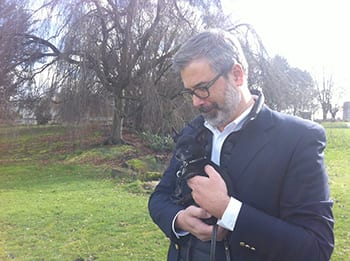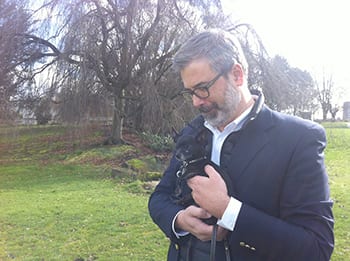 "Animals have such a positive impact on our lives by loving us unconditionally, making us laugh and offering us comfort in difficult times," says Lorie Chortyk, general manager of community relations for the BC SPCA. "In this campaign we wanted to show how animals truly bring out the best in us."
The 15-second spots focus on three aspects of the campaign theme: Animals bring out the child in us; Animals bring out the lover in us; and Animals bring out the healer in us.  The television spots will run throughout 2016 with a link to the BC SPCA website, where viewers are encouraged to help animals in need by volunteering, donating or adopting.
In one of the scenes, well-known architect and designer David Yustin is seen walking his 10-year-old rescue Chihuahua across a park. When the pint-sized pup decides she's not happy with the direction Yustin is taking her, she shows who's boss by planting all four paws in the ground for a stand-off.
"She will only walk in one direction because turning around means we are going home and she loves her walks too much to do that," explains Yustin with a laugh. "The scene was supposed to show us enjoying a walk together but when we turned around to walk towards the camera she decided to stop in her tracks and show me that going home was not an option."   Seeing a grown man losing a battle of wills with a tiny Chihuahua may cause some chuckles, but Yustin says he really doesn't mind.
"Gypsy's feisty personality is one of the reasons she is so special," he says. "She is so sweet, well behaved and loves everyone, but she is no pushover.  She has a mind of her own and I respect that.  She is such great company and is able to make a horrible day go away in an instant just by wagging her tail."
The bond between Yustin and Gypsy is just one of the special moments captured in the television spots. "There are just so many wonderful and crazy moments we share with our pets and in this campaign we wanted to celebrate the happiness and value they bring to our lives," says Chortyk.
The British Columbia Society for the Prevention of Cruelty to Animals is a not-for-profit organization reliant on public donations. Our mission is to protect and enhance the quality of life for domestic, farm and wild animals in B.C.