Many of us will blink our eyes without thinking, but for one dog in the West Kootenays, just one blink can be a struggle.
Staff at the BC SPCA's West Kootenay Branch are hoping you'll help them help Odin, a sweet, one-year-old shar-pei mix get the surgery he needs so he can see without pain. He suffers from entropion of the eyelids, causing his eyelids to roll inward against the eyeball.

"Odin's condition requires entropion surgery, and without treatment, he could end up with an infection, ulcers – even become blind," says Kristine Graham, animal care attendant, BC SPCA West Kootenay Branch. "In the meantime, he receives eye drops four times a day while waiting for treatment. This is a painful, irritating condition that no animal should be living with; it breaks our hearts seeing him suffer like this."
Even with his eye problems, Odin is well-known at the branch for his kind demeanour. "He's been so friendly to everyone he meets, and he really enjoys going out for walks. He's never shy around people; he always wants to get to know them. We know he'll have so much love to give once he makes his way to his forever home, and we want him to be able to look forward to that – pain-free."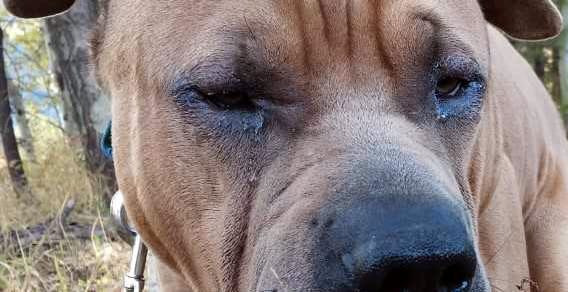 If you'd like to help Odin, or animals like him, please visit our medical emergency website, or you can make a donation in person at our branch, located at 124 Heritage Way, Castlegar.