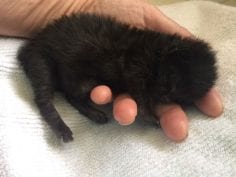 Last year, at just one week old, tiny Willow was abandoned and taken to the BC SPCA Salt Spring Island Branch.
Thanks to funds raised at the BC SPCA Lottery for animals in need, Willow had a chance to fight for her survival.
Willow was bottle fed every 90 minutes by her foster family to build up her strength. In the first week, Willow developed an infection at the site of her umbilical cord.  She was giving minuscule amounts of antibiotics and required regular cleansing to ensure that her infection cleared.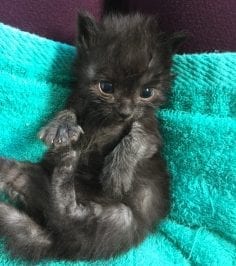 Despite having a rough start at life, Willow continued to gain weight and meet all the milestones for a newborn kitten.
It was not long before Willow was due to be spayed and become available for adoption that her foster family knew that Willow was where she belonged.  In August last year, Willow was adopted and found her "furever" home.
Thanks to funds raised during the BC SPCA Lottery for Animals in Need, animals like Willow had a chance at survival and a happy home.
Many more animals need your help!
Buying a lottery ticket today ensures the BC SPCA can continue to provide care for abandoned, abused and injured animals.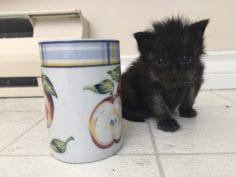 Tickets start at just $30 and there are 31 cash prizes totalling $100,000 to be won!
There is also the 50/50 Bonus Prize where you could win up to $50,000!  Your support will help more animals like Willow.
When you play, the animals always win.
Know your limit, play within it. 19+