They would do anything for love – including going behind bars. Local celebrities, including the Vancouver Canuck's Sven Baertschi and partner Laura Calvert, CTV weather anchor Ann Luu, Canadian TV personality Erin Cebula, radio personalities and local professionals will get locked into the Vancouver SPCA's dog kennels to raise funds for animals in need this Friday, Aug. 12.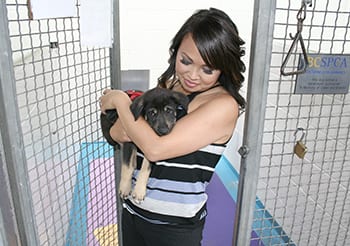 "Lock-In for Love is a fundraiser that's also fun – we 'jail' fundraisers whose job it is to raise enough 'bail' to get them freed," says Krista Constatineau, BC SPCA manager, fundraising events. "Last year, thousands of dollars were raised in a matter of hours, all for abused, neglected, homeless, injured and sick animals in the province, thanks to some superstar celebrity participants!"
This year, Lock-In for Love participants include:
Ann Luu – Ann Luu is the Weather Anchor for CTV News Vancouver at noon, 5 and 6, Ann Luu's In your Shoes segment, and host of Best of BC and Community Calendar on CTV. In her spare time, Ann volunteers for the BC SPCA and enjoys the great outdoors with her two pups and husband.
Sven Baertschi and Laura Calvert – Sven Baertschi is a Canucks left wing player who has been with the Canucks since March 2015. Recently re-signed for another two years, he and Laura Calvert are animal lovers and proud parents to their dog Bear.
Erin Cebula – Erin Cebula, a Canadian TV fixture since 2000, has graced the likes of Vancouver talk show Urban Rush, Canucks Pay-Per-View, Six Degrees of TV and HGTV Canada's feel-good hit, Makeover Wish. Erin is currently the West Coast Correspondent for Entertainment Tonight Canada, an active advocate for the BCSPCA, and the proud Spokesperson for BC Children's Hospital Lottery.
Rosann Youck – Rosann Youck is a longtime supporter of the BC SPCA; she has lost her heart numerous times to foster animals and gets down and dirty every Thursday walking dogs at the Burnaby branch.  She has also been a committee member working on the Lower Mainland Offleashed Gala Committee.
Alece Anderson – Alece Anderson is a Vancouver broadcaster who co-hosts the 'Willy in the Morning Show' at Rock 101. Alece is a huge animal lover, and has been participating in the Lock-In for Love for the past four years, making this number five. She has three rescue animals of her own: two cats, Bandit and Zephyr, and her dog Dolly.
Darcy Matheson – Darcy is a longtime TV producer for CTV Vancouver, and pens animal columns for The Daily Hive and Modern Dog. Her first book, "Greening Your Pet Care," focuses on how pet owners can lower their companion animal's "carbon paw print" for the sake of their health – and the planet. She has two dogs, Murphy Brown, a Norfolk terrier, and Seymour, a lovable mutt.
Rebecca Bree Rawlinson – Rebecca Bree Rawlinson is the owner and founder of Rebecca Bree Boutique, which opened in 2012. Rebecca used her past experience working with brands such as Oscar de la Renta and Dolce & Gabbana at Canada's luxury retailer Holt Renfrew to craft her unique boutique that has garnered her attention in the likes of FLARE Magazine + FASHION.
Kenn Hamlin – An innovative marketing and communications professional, Kenn Hamlin joined TELUS in 2006 and has held dynamic roles in experiential event marketing, retail strategy, sponsorship and community affairs. An American by birth and Canadian by choice, Kenn is passionately involved in the community and the proud father of Mr. Kitty – TELUS' leading corporate cat.
Jodi Dunlop – A passionate animal lover who has worked for the BC SPCA for 28 years, and has been an SPCA branch manager in Vancouver, Chilliwack, Maple Ridge and Abbotsford, Jodi Dunlop's unwavering love of animals has led to her career working with furry friends in need, including fostering dogs, rabbits, cats, Guinea pigs, hedgehogs, birds, ferrets, puppies and kittens. Her current animals at home include three dogs, a parrot, fish, a Guinea pig and two rats.
"It's a huge win-win for the province's most vulnerable animals," Constantineau says.
The British Columbia Society for the Prevention of Cruelty to Animals is a not-for-profit organization reliant on public donations. Our mission is to protect and enhance the quality of life for domestic, farm and wild animals in B.C.