They would do anything for love – including going behind bars. Local celebrities, including CTV weather anchor Ann Luu, The 100 actress Marie Avgeropoulos, radio personalities and local professionals will get locked into the Vancouver SPCA's dog kennels to raise funds for animals in need this Friday, Aug. 18.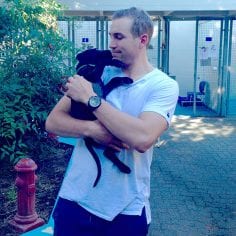 Local personalities are also doing the same at three other BC SPCA locations this Friday, in Nanaimo, Parksville and Campbell River.
"Lock-In for Love is a fundraiser that's also fun – we 'jail' fundraisers whose job it is to raise enough 'bail' to get them freed," says Holly Patterson, BC SPCA senior officer, fundraising events.
"Last year, several thousands of dollars were raised in a matter of hours, all for abused, neglected, homeless, injured and sick animals in the province, thanks to some superstar participants!"
This year, Lock-In for Love participants in Vancouver include:
Ann Luu – Ann Luu is the Weather Anchor for CTV News Vancouver at noon, 5 and 6, Ann Luu's In your Shoes segment, and host of Best of BC and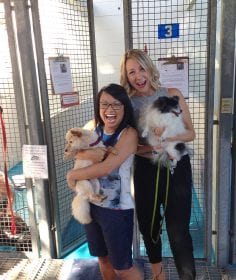 Community Calendar on CTV. In her spare time, Ann volunteers for the BC SPCA and enjoys the great outdoors with her two pups and husband.
Chelah Horsdal – Chelah Horsdal is a Canadian actress who is a series regular on Amazon's The Man in the High Castle, currently shooting its third season in Vancouver. She is well-known for her regular roles in TV's Hell on Wheels and When Calls the Heart and recurring roles on Stargate SG-1, Level Up, Arrow and for her roles in the films Aliens vs. Predator and Rise of the Planet of the Apes.
Marie Avgeropoulos – A Canadian actress and model, Marie Avgeropoulos currently plays Octavia Blake in the science fiction series The 100. Born and raised on the shores of Lake Superior in Thunder Bay, Ontario, she's an accomplished drummer as well as an accomplished actress.
Alece Anderson – Alece Anderson is a Vancouver broadcaster who co-hosts the 'Willy in the Morning Show' at Rock 101. Alece is a huge animal lover, and has been participating in the Lock-In for Love for the past four years, making this number five. She has three rescue animals of her own: two cats, Bandit and Zephyr, and her dog Dolly.
Darcy Matheson – Darcy is a longtime TV producer for CTV Vancouver, and pens animal columns for The Daily Hive and Modern Dog. Her first book, "Greening Your Pet Care," focuses on how pet owners can lower their companion animal's "carbon paw print" for the sake of their health – and the planet. She has two dogs, Murphy Brown, a Norfolk terrier, and Seymour, a lovable mutt.
Rebecca Bree Rawlinson – Rebecca Bree Rawlinson is the owner and founder of Rebecca Bree Boutique, which opened in 2012. Rebecca used her past experience working with brands such as Oscar de la Renta and Dolce & Gabbana at Canada's luxury retailer Holt Renfrew to craft her unique boutique that has garnered her attention in the likes of FLARE Magazine + FASHION.
Priscilla Faia – Priscilla Faia is a Canadian film and TV actress and former writer who was born and raised on Vancouver Island. She is currently starring in the television show You Me Her as Isabella 'Izzy' Silva.
Jodi Dunlop – A passionate animal lover who has worked for the BC SPCA for 29 years, and has been an SPCA branch manager in Vancouver, Chilliwack, Maple Ridge and Abbotsford, Jodi Dunlop's unwavering love of animals has led to her career working with furry friends in need, including fostering dogs, rabbits, cats, Guinea pigs, hedgehogs, birds, ferrets, puppies and kittens. Her current animals at home include three dogs, a parrot, fish, a Guinea pig and two rats.
In Nanaimo, Lock-In for Love participants include:
Ann Marie Clark, dealer principle of Steve Marshall Ford Lincoln. Anyone who knows Ann Marie knows that she is all about helping and supporting the Nanaimo community, especially when it comes to animals! But Ann Marie uses her position to leverage her business to support many important local charities, including the BC SPCA.
Savanna Brandeth from Island West Coast Developments. Savanna is a huge supporter of the BCSPCA and animals in the community. Savanna was a part of the team that built the new Nanaimo & District Community Animal Centre! She has become a close friend to the branch, helping us adapt to our new building.
Fred Jeffery, owner of Lucid, a popular women's clothing store in Nanaimo. Fred supports the Nanaimo branch of the BCSPCA in many ways, and for many years, even selling BCSPCA clothing in his store and returning all of the revenue. Fred adopted his awesome dog "Skippy" from the Nanaimo BCSPCA as well.
Slava Govorov, owner of the South Location of Panago Pizza in Nanaimo. Slava is an amazing supporter of the Nanaimo SPCA. He supplies pizzas for events, and free coupons to be used in fundraising. On Canada Day Slava and his family cooked and sold hundreds of pizzas by donation to the BC SPCA.
Kim Smythe is the chief executive officer of the Greater Nanaimo Chamber of Commerce. Kim is an enthusiastic supporter of our city, its residents and businesses. Kim is a local leader who contributes in many ways to the community, and supports the efforts of charities, and many great causes and events in the Harbour City.
Catrina Elliot is the owner of Elite Image, and Coastal Colour Design & Printing. Catrina also Director at International Widows & Orphans Fund, and chief executive officer of the Elite Group. Catrina supports the Nanaimo Community in many ways, but has a soft spot for animals, and runs an animal-friendly workplace.
Jessica Lepp, reporter for CTV. Jessica is a familiar face around the Nanaimo SPCA. She is always available to hear and report on stories that help animals in need! Jessica is actually allergic to dogs, which shows her dedication to this effort! We will put her in with a low shedding pup
At the Parksville-Qualicum Beach & District BC SPCA, participants include:
Sabrina Qureshi, regional director of the BC SPCA Board of Directors and Parksville shelter volunteer. Sabrina has two Parksville SPCA cat adoptees, Gizmo and Boo.
Kelly Robinson: When isn't filming around the island for Shaw Cable, Kelly is a great ambassador for the BC SPCA . She has several furry kids at home.
Jocelyn Tocher: Member of the BC SPCA community council for the area. Jocelyn organizes all the community Tag Days and community coin boxes for the branch. Throughout her many years of volunteering Jocelyn has adopted a few dogs as well as cats and birds.
Margaret Lonsdale: Margaret has volunteered for the BC SPCA for 11 years. She has been the guardian to three cats since her retirement and pet-sits for many friends. She has also been the top fundraiser for several years in a row for the annual Paws for a Cause walk.
Pam McCready: Pam has volunteered for the BC SPCA since 2006. She is currently the BC SPCA Community Council Chair and has a particular interest in humane education. She adopted her dog Sally from the Parksville-Qualicum Beach & District BC SPCA Branch.
In Campbell River, Lock-In for Love participants include:
Ashleigh Clark is a young, energetic radio host with a huge heart for furry friends! She currently works for 99.7 2DayFM and she is so excited to be a part of this event. Ahsleigh has worked for and volunteered with other SPCAs in the province and across the country and she really hopes you'll help her reach her fundraising goal so both of you can feel good about saving animals in need of our love and care.
Larry Samson was born and raised in Campbell River, spending 34 years with the fire department before retiring in 2009. Elected to City Council in 2011 and re-elected in 2014, the married father and grandfather notes that Campbell River is a very caring and giving community and he is hopeful residents will show it this Friday – all to help local animals in need.
At the Chilliwack BC SPCA on Wednesday, Aug. 23, participants include:
Alana White :  A mortgage specialist with BMO Bank of Montreal with 25 years' experience, Alana has been fostering kittens for the Chilliwack Branch for more than five years and has lived in Chilliwack for 15 years with her family.
Megan Moses and Luke Tomkinson : Megan and Luke are husband and wife and working together on this event.   Megan is employed with the BC SPCA and enjoys coming to work every day and helping the animals in need.   Megan and Luke are fond fur-parents to their three-year-old Boxer named Zuzu.
Geoff Ahman : Geoff has been a  longtime supporter of the BC SPCA  and has adopted many senior animals in need from the shelter and given them a permanent, loving home. When Geoff is not busy with work he spends as many hours as he can also volunteering at the shelter.
Anita Rogers :  Anita Rogers is a longtime lover of animals.  When Anita was four, she asked her mother if a friend could come in and play – the friend turned out to be a huge German Shepard who was larger than she was! Animals have been a part of Anita's life almost since birth, with cats being a special favorite of hers.  Growing up on a ranch in her teenage years Anita has cared for dogs, cattle, horses, chickens, geese, piglets and even a rescued blue heron for one summer.
Sue Attrill :  Chilliwack Coun. Sue Attrill has been serving the Chilliwack community as a councillor on Chilliwack City Council since 2008.
Kathleen McKay :  Hairstylist with project Beauty at Beautyboxx on Mill Street in Chilliwack, Kathleen has also been selling tickets for a wonderful basket full of high-end hair products from her salon.  Kathleen is an avid animal lover and enjoys walks on the river with her husband and her dog Odin.
Ashley Marie Cooke :  Teaming up with her co-worker and friend Kathleen McKay, Ashley is a hairstylist with project Beauty at Beautyboxx.
Jason Tatarnic : Jason is head coach and general manager of the Chilliwack Chiefs hockey team.
For more information – or to help your favourite fundraiser reach his or her goal, visit spca.bc.ca/lockin, where you can also see which other BC SPCA locations are hosting similar lock-in events.