The BC SPCA Campbell River Branch is excited to report on the overwhelming success of "Fix 400 Cats in Four Months", a promotional campaign inviting local residents to spay and neuter kittens and cats at no cost to themselves through a grant project funded by PetSmart Charities of Canada™.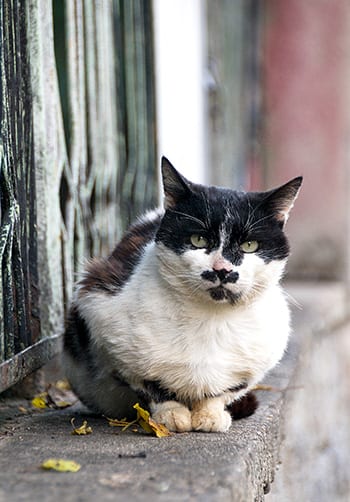 In 2013, the Branch was awarded $158,000 from PetSmart Charities of Canada™ to fix 1,500 owned and free-roaming cats within the city. The goal of the program, launched late last year, is to reduce the number of accidental litters and unwanted kittens by removing all cost barriers.
The branch launched the campaign to ensure that community members were aware of the no-cost service prior to wrapping up the grant program. Since last September, the branch achieved record surgery numbers, averaging 55 cat spay/neuters per month. To date, more than 1,450 kittens and cats have been spayed and neutered at no cost to their caretakers.
"We are ecstatic to see the wonderful success of this campaign in our community and we look forward to seeing the future impact that it will have on our cat overpopulation. The recipients of the grant are extremely grateful to have this funding available to them, as the majority of pet owners have the best intensions to get their animals spayed or neutered but financial barriers are a common struggle for a lot of people, " says Stephanie Arkwright, BC SPCA Campbell River Branch manager.
"We all know the importance of spaying or neutering our pets, and the impact it has on controlling pet overpopulation. This grant has given us an amazing opportunity to really make a difference in our community and to save the lives of countless cats."
The program is expected to wrap up in April. The branch is currently exploring additional funding options in order to continue to offer this viable service to the community.
 "Working on cat overpopulation will be an ongoing task in Campbell River, and we will need the help of the community to succeed in making a positive impact. We hope that residents will report potential community or feral cats that need assistance, also consider adopting when choosing to bring a new addition to their family, and also support our branch so that we can continue our life saving work. Arkwright says. "In order to sustain the cat population decline that we are likely to see as a result of this program, it is critical community members continue to spay and neuter their pets."
The BC SPCA would like to thank PetSmart Charities of Canada™, Merecroft Veterinary Clinic, Campbell River Veterinary Hospital, the Campbell River Mirror and 2DayFm 99.7 for their support and participation in making this project successful.
For more information about this program or to make an appointment for your cat, call the BC SPCA Campbell River Branch today at 250-287-7766.
The British Columbia Society for the Prevention of Cruelty to Animals is a not-for-profit organization reliant on public donations. Our mission is to protect and enhance the quality of life for domestic, farm and wild animals in B.C.