With temperatures warming up in the Central Okanagan, representatives from the BC SPCA Kelowna branch, the Regional District of Central Okanagan (RDCO) Animal Control, Kelowna RCMP and Mario's Towing gathered at Orchard Park Mall on Thursday, July 5 for a public awareness campaign on the dangers of leaving pets unattended in vehicles during the hot weather months.
"Our united message is clear and unambiguous," says Sean Hogan, BCSPCA Kelowna Branch manager. "Leave pets at home. If you must travel with your pet, take steps to protect them by travelling earlier in the day when it's cooler, take the animal with you when you leave your vehicle, and shop pet-friendly businesses."
"Regional District Dog Control officers will enforce and ticket offenders under the Responsible Dog Ownership Bylaw at the recommendation of the BC SPCA," says Bruce Smith, Communications Officer for RDCO. "The important point here is not how many tickets are issued, it's about preventing the circumstances from happening in the first place. Hot dogs are meant for a barbeque, not in a vehicle!"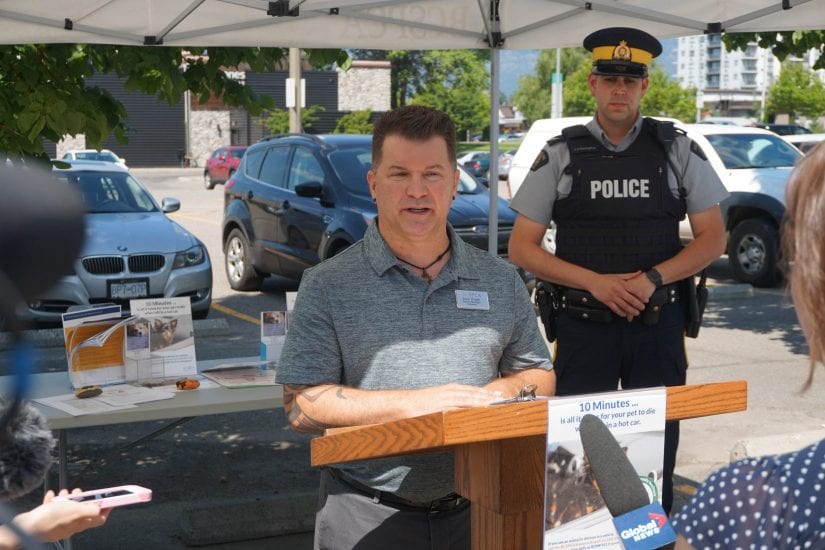 While most people mean well when they say they'd be willing to break a glass window to get an animal out of a roasting vehicle, it's strongly recommended you don't. Only RCMP, local police, and BC SPCA Special Constables have the authority to enter a vehicle lawfully to help a pet in distress. This year, authorities will request support from Mario's Towing who can access the vehicle for the attending officer without shattering the window.
"We are pleased of a new partnership formed this year with Mario's Towing," says Cpl. Jesse O'Donaghey, Media Relations, Kelowna RCMP. "This planned approach was conceived as an effort to minimize any damage caused, but more importantly to avoid injuring or frightening the already distressed animal inside the vehicle."
The temperature in a parked car, even in the shade with windows partly open, can rapidly reach a level that will seriously harm or even kill a pet. In just minutes, the temperature in a parked car can climb to well over 38 degrees Celsius (100 degrees Fahrenheit). Dogs have no sweat glands, so they cool themselves by panting and by releasing heat through their paws.
On summer days the hot air and upholstery in a vehicle can make it impossible for pets to cool themselves. Dogs can withstand high temperatures for only a very short time – usually just 15 to 20 minutes – before suffering irreparable internal organ and brain damage or death.
"If you're used to letting your pets accompany you on errands, you might feel guilty leaving them at home on hot summer days. But they will be much happier – and safer – at home, with shade and plenty of fresh, cool water," Hogan says. "If you must travel with your pets, be responsible about it and keep them cool."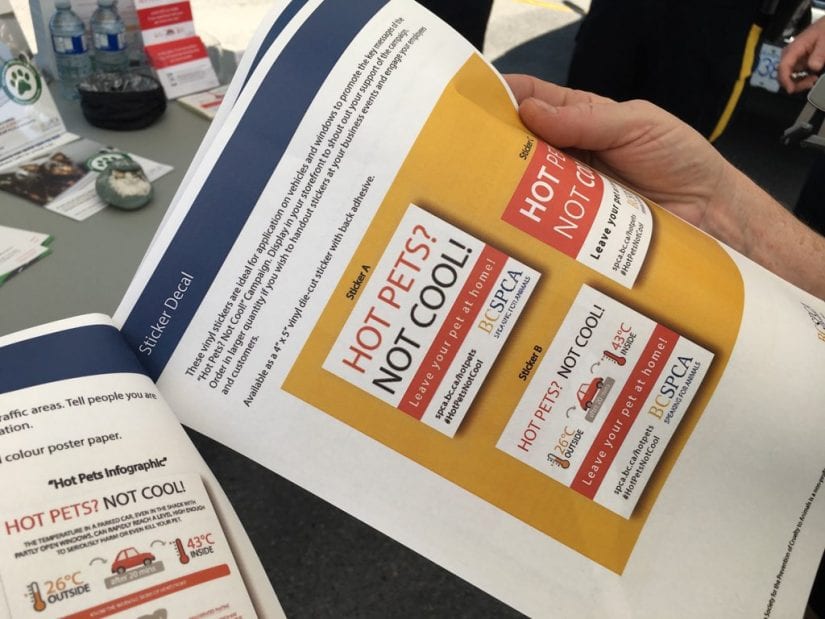 What to do if you see a dog in distress in a parked vehicle:
Take note of the animal's behaviour – Are they panting or not? Where are they in the car – on the seat? Dashboard? Floor? Are they barking, listless, or flat-out non-responsive?
Take a photo of the vehicle and licence plate, or write down the description, licence, and location. Contact local businesses and request they page customers with this information. You may be asked to share this image with the BC SPCA so we can recommend follow-up by RDCO By-Law enforcement. A fine under the Responsible Dog Ownership Bylaw is $150
Call to report the hot dog in vehicle situation if no owner is found or when animal is suffering symptoms of heatstroke. During daytime, 9-5pm, call the Kelowna SPCA at 250-861-7722 and in an emergency, call 911 for RCMP attendance. Non-emergency or after-hours, contact the Kelowna RCMP 250-762-3300
We discourage the public from taking matters into their own hands. It is illegal for the general public to break a window to access the vehicle themselves; Only RCMP and Special Provincial Constables of the BC SPCA can lawfully enter a vehicle. SPCA branch staff and volunteers cannot lawfully enter vehicles.
Travel with emergency supplies in your own vehicle – bottled water, a small bowl, a towel that can be soaked in water- such that you can help hydrate an animal while you wait for emergency response; a battery-powered fan from a dollar store also can be handy to circulate air. White sheets to block the sun or reflective visors may also create shade.
Share the key messages: Hot pets are NOT cool; Leave Pets at Home; Contact the BC SPCA at 250-861-7722 daily 9-5 for support, or 911 in an emergency.
Central Okanagan pet-friendly businesses are encouraged to contact the BC SPCA Kelowna branch if they want to display "Hot Pets? Not Cool!" messages in the form of posters, vinyl stickers, rack cards, or banners. We have created a catalogue and order sheet to make the process easy and affordable. Call or email Sean Hogan 250-258-2511 / shogan@spca.bc.ca
Symptoms of heatstroke in pets:
Exaggerated panting (or the sudden stopping of panting)
Rapid or erratic pulse
Salivation
Anxious or staring expression
Weakness and muscle tremors
Lack of coordination, convulsions
Vomiting
Collapse
If your pet shows symptoms of heatstroke:
Immediately move the animal to a cool, shady place
Wet the dog with cool water
Fan vigorously to promote evaporation. This will cool the blood, which reduces the animal's core temperature
Do not apply ice. This constricts blood flow, which will inhibit cooling.
Allow the animal to drink some cool water (or to lick ice cream if no water is available)
Take the animal to a veterinarian as soon as possible for further treatment