Early last week, a stray cat and her litter of three-week-old kittens were found in a shed and brought into the care of the SPCA.
"This is the only litter of kittens we've had come in from the city of Dawson Creek this year so far," says Wendy Davies, manager of the BC SPCA's South Peace Branch.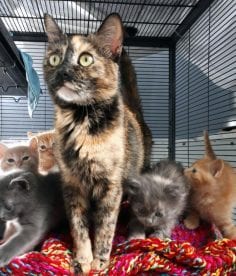 Thanks to a $78,010 grant from PetSmart Charities of Canada™ to fix 650 owned cats, it is becoming rarer to see kittens from the city coming into the South Peace SPCA. In 2017, kitten intake from Dawson Creek decreased 31 per cent compared to 2015.
"The progress we have seen in our community since the program started has been significant, and we are thrilled that cats in Dawson Creek are on the road to a healthier, happier life", says Davies. "With just over a month left in the program, we are asking residents of Dawson Creek to help us achieve our goal and take advantage of this resource while it's still available."
In addition to the free spay/neuter surgery, there are further cost savings by participating in the program. If your cat is fixed with tattoo or microchip you only pay $5 each year for your city cat license. Failing to fix your cat will result in a $200 mandatory city license fee. Failure to license your cat can lead to a $125 fine per day.
The goal of the program is to reduce the number of accidental litters and unwanted kittens by removing all cost barriers. Since receiving the grant in January 2017, nearly 500 kittens and cats have been spayed and neutered at no cost to their caretakers.
"In addition to helping cat overpopulation, spaying and neutering also provides lifelong health benefits and behaviours such as spraying, roaming, fighting and howling often subside. Even if the cat is an indoor cat, his/her risk for developing common cancers of the reproductive system is significantly reduced", Davies says.
With 150 surgery spots remaining and the program closing at the end of May, Davies urges all Dawson Creek residents who want to fix their cats for free to visit the South Peace SPCA Tuesday to Saturday between 1 and 4 p.m.
The BC SPCA would like to thank PetSmart Charities™ of Canada, Dawson Creek Veterinary Clinic, South Peace Veterinary Hospital and the City of Dawson Creek for their support and participation in making this project successful.