Imagine a litter of six four-week-old kittens wandering around in the woods in the city of Campbell River. Had it not been for the Campbell River Partners in Animal Welfare Society (CR PAWS), they would certainly have died with no one around to look after them. Luckily the kittens were saved by a CR PAWS team of volunteers and found loving homes through the Campbell River BC SPCA.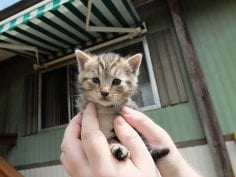 "Not all kittens who are found in the wild are as lucky as these six – sometimes help comes too late," says Bonnie Fulton, co-founder of CR PAWS. "CR PAWS has been successful in helping to prevent these heartbreaking situations by trapping pregnant feral cats and placing them in foster homes until their kittens are born and able to be weaned."
This valuable work by the volunteers involved would not have been possible without the BC SPCA Community Animal Spay/Neuter Grant that has enabled the group to save kittens and use the trap-neuter-return (TNR) process to sterilize cats in the Campbell River area.
CR PAWS is a charitable organization founded by a group of people who wanted to address the feral cat situation growing rampant in the City of Campbell River. Started when the BC SPCA Campbell River Branch received a PetSmart Charities™ of Canada grant for the spaying/neutering of owned cats as well as cat colonies in the area, volunteers took the lead on trap-neuter-return (TNR) of these cat colonies. These volunteers started CR PAWS and CR PAWS members eventually became an official non-profit group after seeing there was a definite need in the region beyond this grant.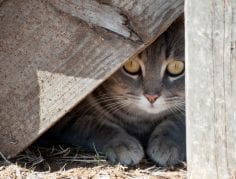 "CR PAWS promotes the well-being and safety of animals in Campbell River area through education, recovery of lost pets, and maintenance of community/feral cats including TNR and through liaison with other rescue organizations," Fulton says.
Despite the work of CR PAWS and the BC SPCA, there are still challenges when it comes to feral cats in the community of Campbell River.
"There is a lot of work to be done to educate people about the large amount of feral cats – a problem that is often started by cats being abandoned," Fulton says. "We want  people to take responsibility to ensure cats do not suffer. Another challenge CR PAWS faces is fundraising to cover the costs for spaying and neutering colony cats."
Fulton says the BC SPCA grant funding CR PAWS received this year has freed up their time to focus on trapping, feeding and working on public awareness projects.
"Thanks to these funds, CR PAWS has been able to prevent countless litters from being born this past spring, spayed and neutered cats from several colonies and helped take care of medical needs of several cats that were underweight and starving," she says.