He never found out that his wife had entered one of his favourite photos into the BC SPCA's annual Wildlife-In-Focus photography contest. He passed away two weeks before the contest closed and the 52 People's Choice winners were determined.
So it's especially meaningful for John Elves' family – wife Peggy, son Peter, daughter Elizabeth and grandchildren Daxon and Zadora – that one of his images, of sea lions frolicking and playing at Sombrio Point on Vancouver Island, was among the top 52 in the People's Choice category, which means his photo is one of 52 featured in a special deck of cards being sold by the BC SPCA to support animals in need.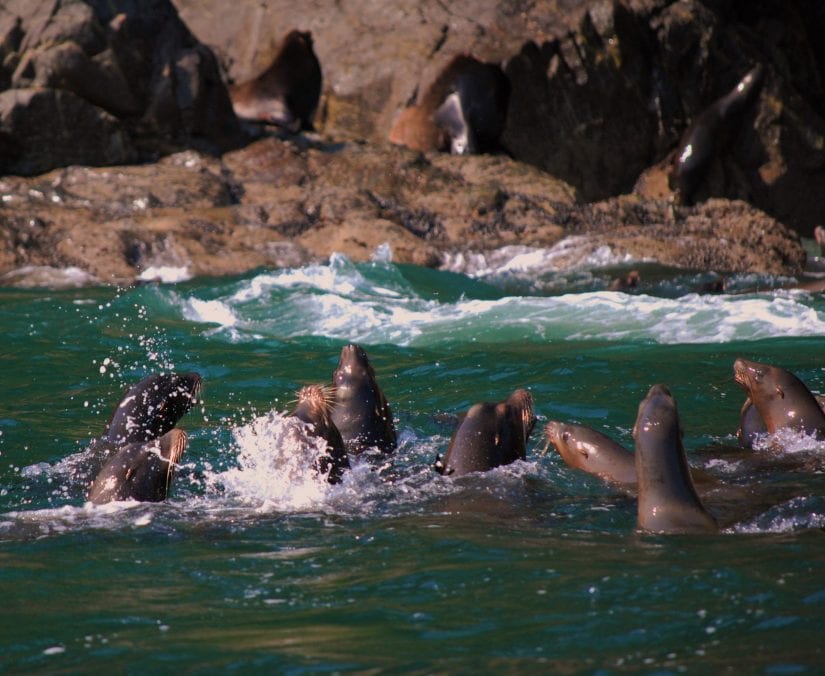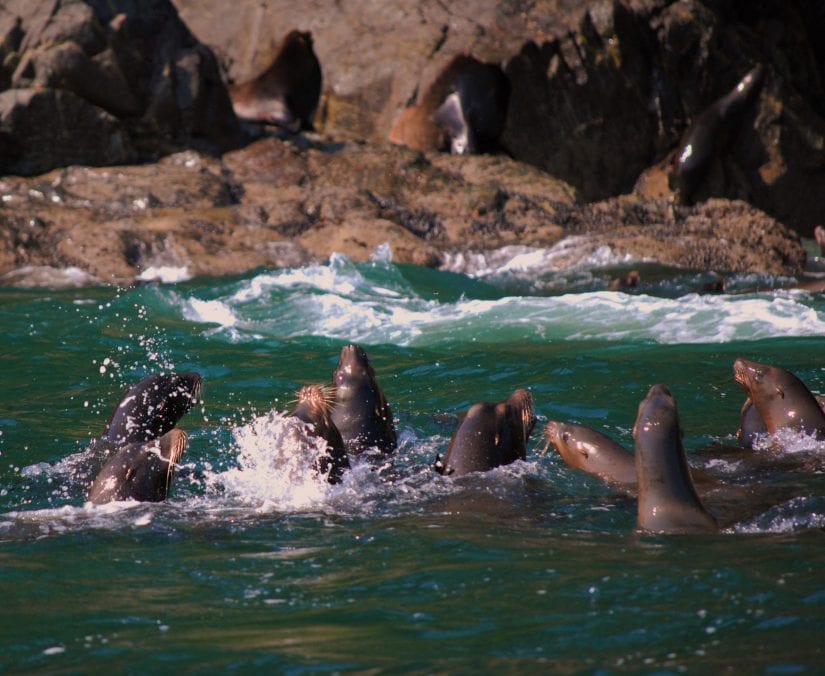 "Some of his most treasured memories were visiting friends in Port Renfrew and heading out on the boat to catch the forest landscape – and the wildlife – from a different point of view," says Peggy Elves, John's wife of 47 years. "He loved capturing them barking and playing at the cave just off Sombrio Point, a favourite place where they love to hang out."
Born and raised in Victoria, John's love of the wilderness began young and during his teenage years, when he went to logging school and spent many years in the forests of southern Vancouver Island and B.C.'s West Coast, Peggy notes.
This type of work took John to many places on the island he hadn't seen and once he left the forestry industry, his strong bond with the geography and animals native to the island was permanently set.
After purchasing a camera in 1996 (when they still used film), John's photography hobby was born, sending him into the Vancouver Island wilderness for any photos he might find.
"John loved birds and sea life and the residents of the forest," Peggy says. "Waking early in the summer, he could often be spotted by fellow 'dawn risers' atop Mount Tolmie's water reservoir with his chair, coffee cup, camera and tripod."
One photo of a raven taking off into the sunrise would prove to be another favourite of his, Peggy says.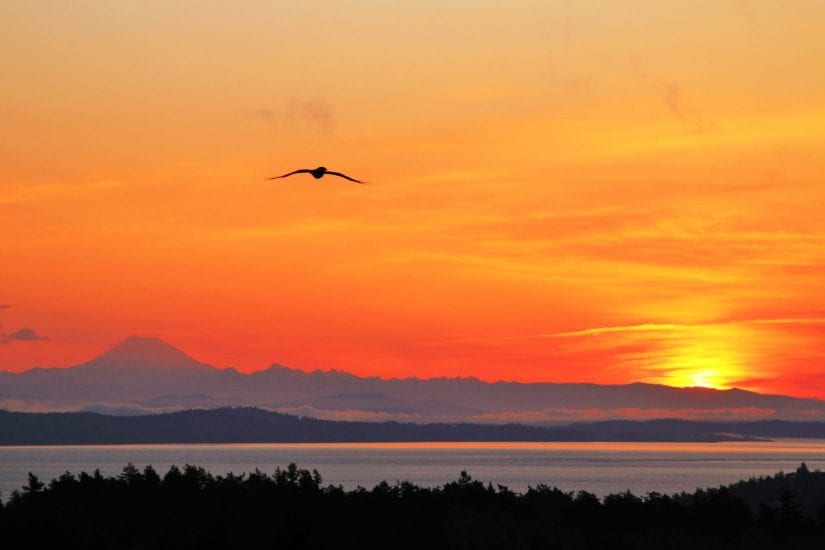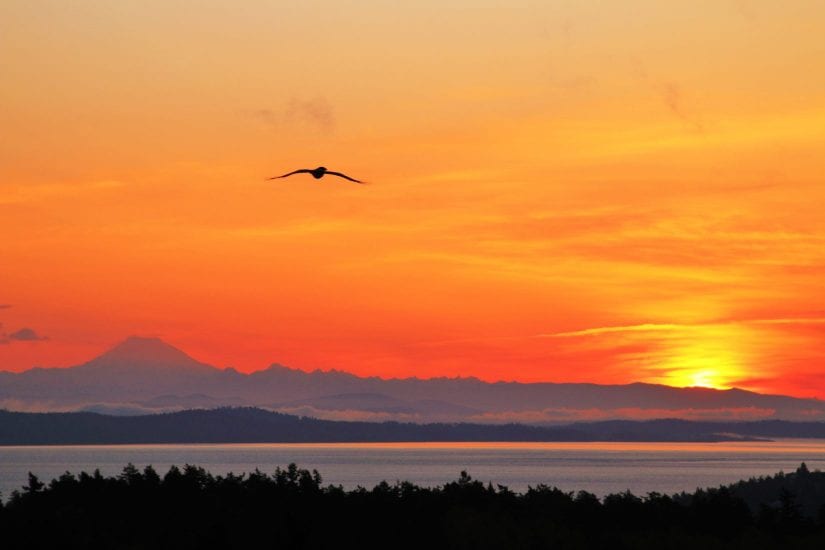 After he was diagnosed with terminal cancer in September of 2016 and after many months of treatments with chemotherapy and radiation that weren't effective, Peggy felt it was important for John to take one last trip on his beloved island, with she and Elizabeth able to accompany him.
"When we made a final drive through Port Renfrew and Lake Cowichan, it just proved his 50-plus years of knowledge of the history of the area – he named every mountain and hill peak and told the history of each area since logging began on the island," Peggy says.
They shared a rented cabin on Qualicum Beach and because he loved to shoot sunrises, he was always ready quite early in the morning.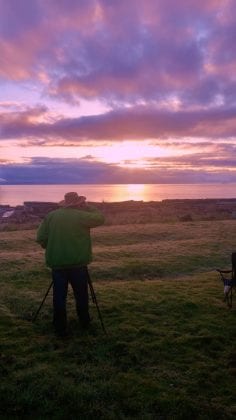 "Elizabeth and I discovered that sunrise comes early in late spring! He was up and out the door at 3 a.m. and much to his surprise and delight, we were right behind him," Peggy says. "Cuddled in blankets and toques in the early-morning dew we watched him in silence as he set up his shot. Watching John enjoy perhaps his last sunrise photo shoot and listening to the begins of a West Coast morning is a lifelong, touching memory my daughter and I will never forget."
Because John had such passion for the B.C. wilderness, photography and seaside wildlife, Peggy thought she'd enter one of his favourite photos in the photography contest, which supports the work at the BC SPCA's Wild Animal Rehabilitation Centre (ARC) on Vancouver Island, where Peggy also volunteers.
"I think John would feel honoured to have one of his photos entered into the contest, which supports one of the most treasured places in his heart – and for his photo to be included in the deck of cards tops it off," Peggy says. "My daughter says she'll proudly add the deck of cards to her camping supplies for camping trips with her family… and I think I'll be buying lots for Christmas gifts!"
While the People's Choice winners have been announced, the winners of the judge's picks are still to be announced. Find out more about the Wildlife-In-Focus contest. The deck of cards featuring John's photo and the 51 others chosen by the public is available to purchase in the BC SPCA's online store.
/*<![CDATA[*/ (function () { var scriptURL = 'https://sdks.shopifycdn.com/buy-button/latest/buy-button-storefront.min.js'; if (window.ShopifyBuy) { if (window.ShopifyBuy.UI) { ShopifyBuyInit(); } else { loadScript(); } } else { loadScript(); } function loadScript() { var script = document.createElement('script'); script.async = true; script.src = scriptURL; (document.getElementsByTagName('head')[0] || document.getElementsByTagName('body')[0]).appendChild(script); script.onload = ShopifyBuyInit; } function ShopifyBuyInit() { var client = ShopifyBuy.buildClient({ domain: 'bc-spca.myshopify.com', apiKey: '897a09ea6eb7efb7ec2d635f6df9f306', appId: '6', }); ShopifyBuy.UI.onReady(client).then(function (ui) { ui.createComponent('product', { id: [139971428378], node: document.getElementById('product-component-0da369472f8'), moneyFormat: '%24%7B%7Bamount%7D%7D', options: { "product": { "variantId": "all", "width": "380px", "contents": { "imgWithCarousel": false, "variantTitle": false, "description": false, "buttonWithQuantity": false, "quantity": false }, "styles": { "product": { "@media (min-width: 601px)": { "max-width": "100%", "margin-left": "0", "margin-bottom": "50px" } }, "compareAt": { "font-size": "12px" } } }, "cart": { "contents": { "button": true }, "styles": { "footer": { "background-color": "#ffffff" } } }, "modalProduct": { "contents": { "img": false, "imgWithCarousel": true, "variantTitle": false, "buttonWithQuantity": true, "button": false, "quantity": false }, "styles": { "product": { "@media (min-width: 601px)": { "max-width": "100%", "margin-left": "0px", "margin-bottom": "0px" } } } }, "productSet": { "styles": { "products": { "@media (min-width: 601px)": { "margin-left": "-20px" } } } } } }); }); } })(); /*]]>*/