The BC SPCA Kamloops Branch was one of the big winners Saturday night at the Kamloops Chamber of Commerce & TD 2017 Business Excellence Awards.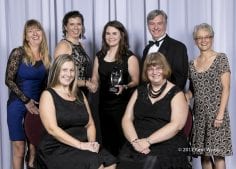 At the chamber's gala evening, A Night Amongst the Stars, the BC SPCA Kamloops Branch was presented with the United Way Not-for-Profit of the Year award.  The SPCA was chosen from three finalists and more than 20 other non-profit organizations that were nominated.
"It was exciting to be recognized with the nomination, but to actually win was amazing," says Tracy Westmoreland, BC SPCA regional manager, Interior. "We're so grateful to the Chamber of Commerce and to the community. It's a real honour."
BC SPCA Kamloops Branch interim manager Alyssa Kyllo says she was ecstatic when the branch won.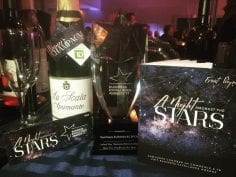 "Of course we're very excited – there are so many deserving not-for-profit organizations who serve our community, so winning the award means a lot," she says.
"We also couldn't do what we do without the support of local business, the chamber, other not-for-profit agencies, our staff and volunteers; this award was a real team effort."
Last year, the BC SPCA provided a wide range of services, including in-shelter care and free or subsidized outreach services to care for and assist 42,970 animals in distress and need through the society's 44 locations. In Kamloops, more than 1,350 animals were cared for in 2016.