Yoga with rabbits and kittens has been a big hit at two BC SPCA branches this summer – and with more classes planned for this fall, you might want to make room for the best namaste ever into your schedule.
"So far, it's been a hit! We've had men and women participate and children seven years and over are also welcome," says BC SPCA Richmond and Adoption Centre assistant manager Florence Wong.
"You might have kittens running through your downward dog or bunnies resting on your child's pose – and we can't promise that you won't fall in love with an animal and want to adopt!"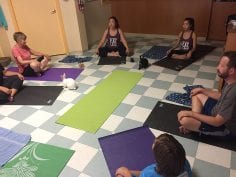 Both the Surrey and Richmond locations have held six classes each, featuring available adoptable animals including bunnies and kittens.
The classes offer a fitness opportunity as well as stress release – and a chance for the adorable and often funny animal participants to potentially, find 'fur'ever homes, says BC SPCA Surrey Education and Adoption Centre manager Christa Torkos.
"Everyone enjoys the classes – we get all ages, young and old, male and female – they love the farm setting and the animals, of course," Torkos says. "The animals seem to really enjoy the company and the freedom to roam where they usually can't."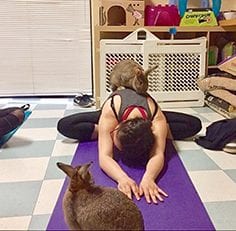 Both BC SPCA locations are planning to do more animal yoga classes this fall, featuring adoptable animals such as rabbits, kittens and possibly, puppies, if the opportunity arises.
Admission is by a minimum donation to the BC SPCA.
Contact the Richmond SPCA at 604-277-3100 or email richmond@spca.bc.ca if you're interested in participating; in Surrey, call 604-574-1711 or email surrey@spca.bc.ca.