A gentle giant with a heart as gold as his coat, Bennie, a four-year-old golden retriever, came into BC SPCA care when his guardian died. He ended up at the vet because those handling the estate felt the overweight four-year-old wouldn't be a good pet for anyone, and wanted the vet to euthanize him.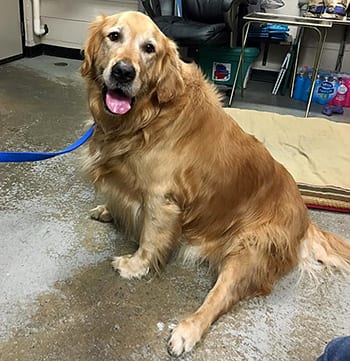 "Our veterinarians felt it was important to assess this young fellow first, to see what he was like, and brought Bennie into their care," says Victoria BC SPCA Branch manager Annie Prittie Bell. "It turned out that Bennie is a gentle giant – his starting weight was 170 pounds and he was barely able to walk or move without strain and extreme panting, but that did not change his amazing personality!"
Bennie will be one of the dogs in the pet runway show at the Victoria SPCA's fourth annual Offleashed Gala event this Saturday at the Oak Bay Beach Hotel. The formal event is the branch's signature fundraising event, with proceeds raised going to help animals like Bennie and their journey in finding new, 'fur'ever homes.
"Bennie is friendly to every person and animal he meets, young and old, and he is always so happy to see you," Prittie Bell says. "Despite being disappointed in his dietary change to weight loss kibble, Bennie has such a steady personality, and has now been taken in to foster to adopt by the most amazing family."
Now, the affectionate canine is losing weight and learning to be active and, even more special, he has been able to successfully identify seizures in one of the foster family's members, alerting the whole family before the seizure begins and gently nudging the affected person to the safety of the couch, so they don't fall and hurt themselves during the seizure, Prittie Bell notes.
"Bennie is truly a remarkable boy and we're sure he's going to love everyone at Offleashed Victoria – it's a whole new breed of gala," she says. "The evening includes the pet runway show, live entertainment, fabulous silent and live auction prizes, delicious food, a photo booth and more! Come and share in the celebration of the joy, loyalty and love our furry companions bring to our lives all while enjoying a fantastic party."
There are still some tickets up for grabs for the June 11 event. For more information, email sburkmar@spca.bc.ca or call the Victoria BC SPCA Branch at 250-388-7722.
The British Columbia Society for the Prevention of Cruelty to Animals is a not-for-profit organization reliant on public donations. Our mission is to protect and enhance the quality of life for domestic, farm and wild animals in B.C.
]