With temperatures soaring across the Lower Mainland, the Surrey RCMP, the City of Surrey Bylaws & Licensing Department, the BC SPCA and Surrey Fire Services gathered at Guildford Town Centre today (July 9) for a public awareness campaign on the dangers of leaving pets unattended in hot vehicles.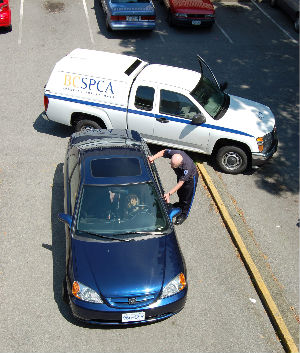 "Each summer our agencies receive hundreds of emergency calls to rescue dogs whose lives are endangered because they are left in hot cars," says Lorie Chortyk, general manager of community relations for the BC SPCA. "Many well-meaning guardians leave their pets in parked vehicles while they run errands, thinking they will be safe for a short period. Tragically, in hot weather their pets can suffer serious heatstroke and die in a matter of minutes."  She notes that last year the BC SPCA received more than 1,100 calls about animals left in hot vehicles and that number is on the rise – so far this summer the SPCA has responded to 840 calls about dogs in hot cars, compared with 514 this time last year.
Cpl. Scotty Schumann, media relations officer for the Surrey RCMP, Kim Marosevich, bylaw business operations manager for the City of Surrey and Brian Woznikoski, assistant fire chief for Surrey Fires Services all agree that 2015 is gearing up to be one of the worst summers yet for calls to rescue pets in distress.
"We make it a priority to respond as quickly as possible, but we would rather see the problem addressed through education and prevention before an animal is put in a potentially fatal situation," says Schumann.  All four agencies point out that each time an officer is dispatched to rescue an animal in a parked car, it stretches resources required for other emergency calls.  "This is a preventable problem and we strongly urge all pet guardians to leave their animals at home during hot days," says Marosevich. She notes that it was just over a year ago that six dogs died tragically after being left in a parked vehicle by their dog walker.
The temperature in a parked car, even in the shade with windows partly open, can rapidly reach a level that will seriously harm or even kill a pet. In just minutes, the temperature in a parked car can climb to well over 38 degrees Celsius (100 degrees Fahrenheit). Dogs have no sweat glands, so they cool themselves by panting and by releasing heat through their paws. On summer days the hot air and upholstery in a vehicle can make it impossible for pets to cool themselves. Dogs can withstand high temperatures for only a very short time – usually just 15 to 20 minutes – before suffering irreparable internal organ and brain damage or death.
"If you're used to letting your pets accompany you on errands, you might feel guilty leaving them behind on hot summer days.  But they will be much happier – and safer – at home, with shade and plenty of fresh cool water," Woznikoski says.
What to do if you see a dog in distress in a parked vehicle:
Note the license plate and ask managers of nearby businesses to page the owner to return to their vehicle immediately;
Call for emergency assistance – Surrey animal control dispatch (604-591-4370) or the municipal animal control in your area, or RCMP (604-599-0502 non-emergency line in Surrey, or 911, depending on the level of animal distress). Note: It is illegal for members of the public to break a window to access the vehicle themselves;
Keep emergency supplies – bottled water, a small bowl, a towel that can be soaked in water- in your car so that you help hydrate an animal (if a window has been left open) while you wait for emergency response;
Be an advocate! Help spread the word that pets and hot vehicles are a fatal mix. Contact the BC SPCA for a #HotPetsNotCool decal for your vehicle and download posters and other materials at spca.bc.ca/hotpets to put up in malls and other areas in your community where pets are left unattended in vehicles.
Symptoms of heatstroke in pets:
Exaggerated panting (or the sudden stopping of panting)
Rapid or erratic pulse
Salivation
Anxious or staring expression
Weakness and muscle tremors
Lack of coordination, convulsions
Vomiting
Collapse
If your pet shows symptoms of heatstroke:
Immediately move the animal to a cool, shady place
Wet the dog with cool water
Fan vigorously to promote evaporation. This will cool the blood, which reduces the animal's core temperature.
Do not apply ice. This constricts blood flow, which will inhibit cooling.
Allow the animal to drink some cool water (or to lick ice cream if no water is available)
Take the animal to a veterinarian as soon as possible for further treatment
The British Columbia Society for the Prevention of Cruelty to Animals is a not-for-profit organization reliant on public donations. Our mission is to protect and enhance the quality of life for domestic, farm and wild animals in B.C.