A First Nations Community, a mobile veterinary business and the BC SPCA are all working together to tackle pet overpopulation in the Cariboo region of the province. Cariboo Country Mobile Veterinary Services (CCMVS) and the Ulkatcho First Nation, with help from a BC SPCA grant, have just completed an ambitious plan to spay and neuter a large number of cats and dogs in their Anahim Lake community.
"It all started from a phone call (the Ulkatcho First Nation) made, which came to us," says Mark Collett, marketing director for the Cariboo Mobile Vet. "There were a lot of animals running around loose, and they wanted our help in controlling their companion animal population."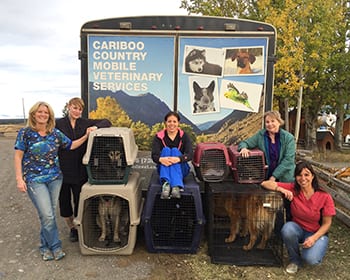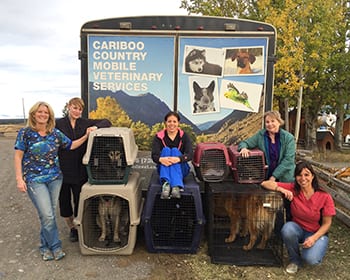 Collett found out about the BC SPCA's grant program, which helps B.C. communities spay and neuter animals, and applied. He and CCMVS veterinarians Pam Barker and registered vet tech Michelle Collett then coordinated their efforts, aided by a $3,000 BC SPCA grant to fix 20 cats and an $8,100 BC SPCA grant to fix 35 dogs in the Anahim Lake First Nations community.
"They've been great. Everybody who's been involved have all been so helpful and so positive," Collett says, noting the plan was to have 70 animals sterilized by the end of September, which was completed last week.
Spaying and neutering the animals helps prevent unwanted litters of puppies and kittens, Collett notes, and adds there have been other positives, such as re-homing or finding homes for animals who need them from the Anahim Lake community. Barker adds that spayed and neutered animals are less likely to roam or fight, and are less likely to succumb to certain kinds of cancers that afflict older, intact animals.
"The BC SPCA is thrilled to support projects like this one," says BC SPCA outreach coordinator Megan Munroe. "Huge disparities in access to affordable spay/neuter services exist throughout the province. When members of a community come together to address the problem, it helps provide a successful solution and sets a fantastic example for other B.C. communities to follow."
CCMVS hopes to add one to two more veterinarians to their team, as there appears to be a demand for veterinary services in many smaller B.C. communities, where services aren't readily available.
"Many towns in B.C. fall between the cracks with respect to veterinary services," Barker says. "They do not have the population to support a full-time fixed veterinary clinic, but still have a real need for routine services. CCMVS attempts to fill that void."
The next application period for 2016 BC SPCA Community Animal Spay/Neuter Legacy Grants will open later this month. To find out more about the benefits of fixing your pet, as well as low-cost options and grants offered by the BC SPCA, visit spayneuter.ca. To find out more about Cariboo Country Mobile Veterinary Services, visit cariboomobilevet.com.
Photo caption: Veterinarian Dr. Pam Barker, left, Anne Timothy, Anahim Lake nurses Dominica Lueth and Anita Madsen, and registered vet tech Michelle Collett.
The British Columbia Society for the Prevention of Cruelty to Animals is a not-for-profit organization reliant on public donations. Our mission is to protect and enhance the quality of life for domestic, farm and wild animals in B.C.