The BC SPCA co-hosted a public awareness event highlighting the link between domestic violence and abuse, also known as the violence link, Friday in Vancouver.
Sponsored by the American Bar Association's Tort Trial & Insurance Practice Section (TIPS) Animal Law Committee and the Young Lawyers Division, the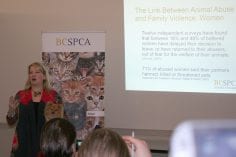 event was held in support of the Atira Women's Resource Society, a Vancouver-based non-profit organization committed to ending violence against women.
"The human-animal bond is a luxury that many people get to experience; we look to animals for comfort and companionship, and those who are victim to domestic violence are no different. This bond can be even more important in these cases, and sadly this relationship can be manipulated and taken advantage of by a perpetrator of domestic violence," says BC SPCA chief prevention and enforcement officer Marcie Moriarty.
"Pets can be used as a manipulation tool, which is a reason why approximately 40 per cent of victims do not leave their abusers for fear of their pet's safety. Abusers will often take out frustrations on the family pet as a means to 'control', and this is a primary reason why animal abuse and domestic violence are so closely linked."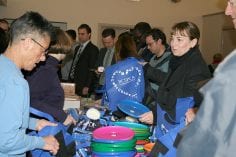 Along with Moriarty, Megan Senatori, Esq., TIPS Animal Law Committee founder and founder of Sheltering Animals of Abuse Victims (SAAV) and Amber Prince, a lawyer with Atira Women's Resource Society, also spoke about the violence link, highlighting personal stories, studies and statistics that show how many women in dangerous situations will delay leaving out of fear of leaving their pets behind.
After the presentation, volunteers from the participating law organizations assembled support packages for women affected by violence in Vancouver, which included dog and cat toys, pet supplies including collars and leashes, BC SPCA tote bags and toques, Lush Cosmetics bath bombs, washcloths and pet food and treats supplied by Tisol.