Whether you're having a cozy get-together or hosting a big holiday dinner party, you want everyone to have a choice at mealtime. Make your holiday spread inviting for all your guests with these delicious gravy recipe ideas.

Friends and family who choose to be vegan or vegetarian will love our hearty vegan holiday gravy. Planning to serve meat as a main dish? Show your guests you care about the ethical treatment of farm animals by purchasing a chicken or ham from a local SPCA Certified farmer. Don't forget, you can put those roasting pan drippings to use as gravy stock in our SPCA Certified holiday gravy recipe below! You can easily make one of each gravy option to give your holiday party guests the most choice at the dinner table.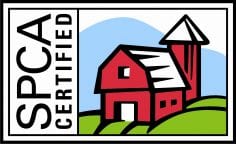 Find a local SPCA Certified farm to get products straight from the farm. We have farmers in the Fraser Valley and in Grindrod, B.C. (near Vernon) that sell SPCA Certified chickens and hams, ready for your holiday orders. SPCA Certified gives you peace of mind that the animals were raised with the highest level of kindness and the BC SPCA stamp of approval.
Vegan holiday gravy
Prep time: 10 mins // Cook time: 20 mins // Servings: 10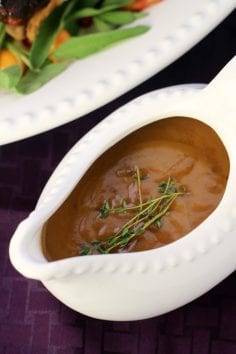 Ingredients
1/2 cup vegetable oil
1/3 cup chopped onion
5 cloves garlic, minced
1/2 cup all-purpose flour
4 tsp. nutritional yeast
4 tbsp. light soy sauce
2 cups vegetable broth
1/2 tsp. dried sage
1/2 tsp. salt
1/4 tsp. ground black pepper
1/2 tsp. rosemary (optional)
Directions
Heat oil in a medium saucepan over medium heat.
Add onion and garlic and sauté until soft and translucent; about 5 minutes.
Stir in flour, nutritional yeast, and soy sauce to form a smooth paste.
Gradually whisk in the broth.
Season with sage, salt, and pepper.
Bring to a boil.
Reduce heat and simmer, stirring constantly, for 8 to 10 minutes, or until thickened.
SPCA Certified holiday gravy
Prep time: 15 mins // Cook time: 15 mins // Servings: 8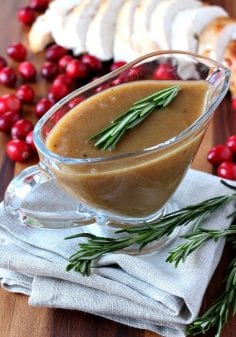 Ingredients
3 tbsp. butter or margarine
3 tbsp. all-purpose flour
1 cup pan drippings (if you have more than a cup, use it and reduce the amount of broth)
1-2 cups low-sodium chicken stock (can sub vegetable or turkey stock)
Salt, to taste
1/4 tsp. ground black pepper
1 tsp. minced fresh thyme leaves (or 1/2 tsp. dried thyme)
1 tsp. minced fresh sage leaves (or 1/2 tsp. dried sage)
1/2 tsp. rosemary (optional)
Directions
Melt butter (or margarine) in a small saucepan over medium heat.
Whisk in flour and cook for 1 minute until the mixture is golden.
Whisk in pan drippings.
Bring mixture to a boil and simmer gently until it has thickened slightly.
Stir in herbs.
Whisk in 1 cup of broth and return mixture to a simmer.
Season with salt and pepper.
Simmer for 10 more minutes, gradually adding more stock if the gravy is too thick.

Email our farm team for more information on the SPCA Certified program and our other farm animal welfare initiatives.
Want more stories like this? Sign up for our quarterly e-newsletter FarmSense to stay on top of all things 'farm' at the BC SPCA.