Vancouver Downtown East Side residents weren't the only ones enjoying the sun at Oppenheimer Park in Vancouver recently. Among the trees, tables, chairs, blankets and benches at the park, a small circle of furry, four-legged friends and their humans gathered to learn better canine behavior.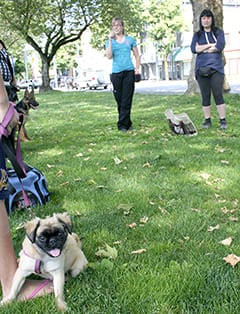 Just down the street from Charlie's Food Bank, a weekly pet food bank operated by the BC SPCA every Thursday for low-income pet guardians in the DTES, the dog training in the park is a new feature that runs in partnership with Oppenheimer Park, an initiative spearheaded by BC SPCA manager of animal welfare, Kim Monteith.
"It's something we need to do. It's important to train pets properly, in a way that's not harsh or cruel," she says "(The BC SPCA) supports a force-free, science-based style of training. We don't support training using prong collars, shock collars, choke chains, intimidation, or physical or verbal harsh corrections."
There are currently no standards for animal trainers, and the BC SPCA's goal is to help change that, Monteith notes.
Community volunteer dog trainers Sarah Dykes, Sarah Pennington, Tara Tower and Teresa Heisler help the area's dog guardians during the park sessions, showing such things as them how to reward their dogs with treats when they answer to their names or correctly perform a command, among other training tips.
"I think this is a great idea," said Shawna Taylor, a DTES resident who was at the park wither beloved Josiah, a three-and-a-half-year-old shitzhu mix. "Not everyone can afford to pay a trainer. It's nice to be able to learn without the expense."
While Charlie's Food Bank, operated out of Mission Possible, happens every week from 10 a.m to noon, the dog training sessions take place every other Thursday, after guardians get the pet food and supplies they need, from 10:30 to 11:30 a.m.
"I want to learn some training tips and help socialize my dog with other dogs," said Shaylene Charleson, who was at the park with Diamond, a charismatic six-month-old shepherd mix. "I want to make sure I'm training her properly."
The British Columbia Society for the Prevention of Cruelty to Animals is a not-for-profit organization reliant on public donations. Our mission is to protect and enhance the quality of life for domestic, farm and wild animals in B.C.