One veterinary hospital in the B.C. community of Creston is leading by example in tackling the province's massive cat overpopulation problem, along with the Creston Pet Adoption and Welfare Society (PAWS). The entire staff at Creston Veterinary Hospital and staff from Creston PAWS recently participated in two separate weekend spay/neuter events at the hospital, resulting in the successful sterilization of more than 50 outdoor-living felines in Creston and the surrounding area.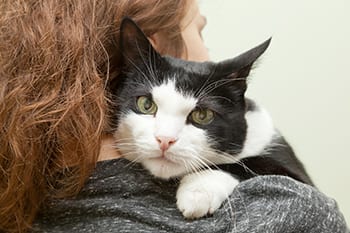 "Everyone at the clinic pitched in. It was pretty awesome," says registered veterinary technician Tara Halonen. "Spaying and neutering leads to better quality of life and also helps prevent unwanted litters."
Spayed and neutered outdoor cats are less territorial and spray less, fight less and maintain weight better, Halonen notes, and fewer unwanted litters means a declining outdoor cat population.
"This protects our native songbird population and prevents the suffering of countless kittens," she says.
Through its PetSmart Charities of Canada® grant program, the BC SPCA provided surgical instruments and sterile gear in spay/neuter surgery packs to help the Creston Veterinary Hospital provide the necessary surgeries. The BC SPCA also provided funding through its Community Animal Spay/Neuter Grant program to cover all other medical expenses.
"It's a fantastic example of how staff at one vet hospital in an area without any SPCA shelter or clinic is helping to create a more humane community," says Amy Morris, BC SPCA officer, policy and outreach. "Addressing the cat crisis in B.C. is a massive, ongoing undertaking, and this just shows how, by coming together, British Columbians are solving the problem, one step at a time."
Solving the province's cat overpopulation issue is a major focus of the BC SPCA's five-year Strategic Plan, as there are tens of thousands of homeless felines in communities across B.C.
Visit spayneuter.ca for more information.
The British Columbia Society for the Prevention of Cruelty to Animals is a not-for-profit organization reliant on public donations. Our mission is to protect and enhance the quality of life for domestic, farm and wild animals in B.C.