In honour of National Feral Cat Day on Oct. 16, the BC SPCA is recognizing the many volunteers and staff dedicated to reducing overpopulation across B.C.  A great example of this can be found at the Kamloops Branch, where there is a small but mighty team of devoted colony caretakers.  As recipients of the BC SPCA Community Animal Spay Neuter Grant, the branch has significantly reduced cat overpopulation by spaying or neutering community cats in remote areas of British Columbia.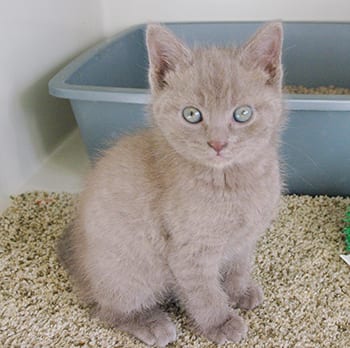 Two of these kittens are Pixie and Dusty. Having begun their lives in a Clearwater, B.C. outdoor colony, the pair were among many of their peers facing limited resources and ever-increasing numbers. Fortunately, the team of BC SPCA Trap Neuter Return (TNR) staff and volunteers were ready and willing to help. As a result of their hard work and dedication, the Kamloops branch has spayed or neutered approximately 25 adult cats and rescued 12 adoptable kittens from this small town colony alone. Consequently, Pixie and Dusty will soon – hopefully – find themselves in loving, forever homes.
Though many BC SPCA branches join in the effort to help feral cats, the Kamloops Branch is well known for its tireless volunteers and wide geographical reach.
"The two women looking after the Clearwater colony have put a great deal of time and effort into ensuring that the cats are cared for," says Lyndsay Stewart, Animal Care Attendant at the BC SPCA Kamloops Branch. "Our volunteers are up very early on an almost weekly basis to trap cats and drive the three-hour round trip to the Kamloops Spay and Neuter Clinic and back."
This grant is of vital importance for small B.C. communities like Clearwater and its neighbouring district of Vavenby.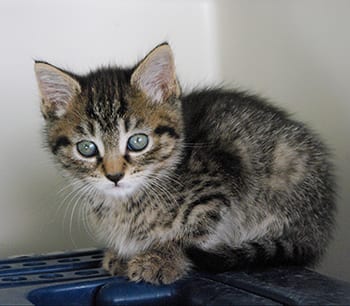 "These are towns with limited resources and which may not even have a veterinarian," Stewart says. "That means people aren't able to take their own pets to see a vet, let alone stray and feral cats from colonies with high populations."
Although the sterilizations themselves are a significant part of the workload at the BC SPCA Kamloops Spay and Neuter Clinic, there is much to be done before and after surgery as well. Staff and volunteers spend a substantial amount of time visiting colonies, trapping cats, transporting them to the clinic for their appointment, and returning them to the remote communities they call home. While in the care of the clinic, cats are vaccinated, tattooed for identification, have their nails trimmed, and are provided post-operative pain medication.
Needless to say, the grant has seen excellent results, and BC SPCA staff has witnessed marked improvement in the colonies with which they work. Since the cats are often trapped in isolated areas, the Kamloops team offers them hope that would be otherwise far out of reach.
So what's next for the BC SPCA Kamloops TNR team? According to Stewart, the future looks bright.
"The 2016 grant we received is our second, and the TNR programming it funded was just as successful as it was with our first," she remarked. "We are planning to apply for another grant in 2017 as more people come forward to help with colonies on their property."
To date, the 2016 BC SPCA Community Animal Spay Neuter Grant program has fixed 350 cats across the province, and is expected to reach close to 700 by the end of the year.
The BC SPCA relies on donations to continue improving the lives of animals across the province, and the BC SPCA Community Animal Spay Neuter Grant was created to do just this. Made possible by the generous legacy donations of animal-loving supporters, this grant provides local organizations in communities across B.C. the opportunity to fund their spay and neuter initiatives.
Photos: Dustry (top photo) and Pixie are two kittens who've benefitted from the BC SPCA Community Animal Spay Neuter Grant.
The British Columbia Society for the Prevention of Cruelty to Animals is a not-for-profit organization reliant on public donations. Our mission is to protect and enhance the quality of life for domestic, farm and wild animals in B.C.