Despite the hail and rain, the atmosphere at Charlie's Food Bank was warm and festive on Dec. 22, when Santa himself showed up to pose for photos with pets and help give out pet toys, food and supplies for animals and their guardians in Vancouver's Downtown Eastside (DTES).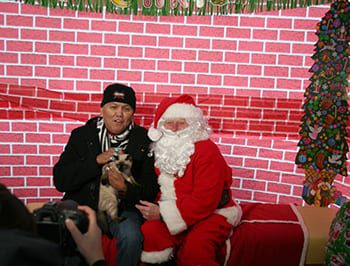 Piled high under temporary protective cover were dog and cat beds, toys, treats, stuffies and more, along with pet food, pet carriers, other pet supplies and even a few treats for their human guardians, who, notes BC SPCA manager of animal welfare Kim Monteith, often go without so their furry friends don't.
"We can't thank everyone enough who donated to help give these people and their beloved pets a brighter holiday season," she says.
Started in 2000, Charlie's Food bank helps low-income clients and their pets in the DTES, with a once-a-week pet food bank and monthly free vet clinic, all operated by volunteers.
More than 5,000 area residents and their pets are helped each year, mainly thanks to generous donations from the public.
Charlie's accepts donations year-round. If you'd like to help, contact your local BC SPCA branch today.
The British Columbia Society for the Prevention of Cruelty to Animals is a not-for-profit organization reliant on public donations. Our mission is to protect and enhance the quality of life for domestic, farm and wild animals in B.C.