Two new exciting initiatives may begin to turn the tragic tide of the unwanted cat problem in B.C.
In 2010, the BC SPCA launched a research project to better understand the types of animals we cared for province-wide. The results were painfully clear: B.C. has a shocking cat overpopulation problem.
These cats are coming in to SPCA shelters as kittens and adults, as strays and surrenders, and they are coming faster than we can keep up with. How does this measure up against the BC SPCA's dog intake?
"There's no comparison," explains animal welfare manager Geoff Urton. "Every year we have four kittens come into our care for every puppy. It's overwhelming."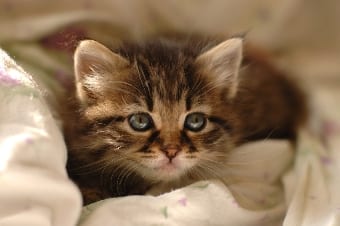 The BC SPCA spends more than $2 million a year on spay/neuter initiatives across the province, providing free and low-cost spay/neuter surgeries at its hospital and clinics in Vancouver, Prince George and Kamloops and ensuring that every cat, dog and rabbit leaving the SPCA is sterilized prior to adoption. This commitment ensures the BC SPCA is part of the solution to pet overpopulation, but it is only the beginning of the organization's efforts to end the province's homeless pet tragedy.
Urton continues: "The good news is that with our new benchmark data, we can now begin implementing solutions tailored to the problem and we can measure our success." Developing targeted solutions means interventionists like the BC SPCA and other local animal groups must also understand barriers to spay and neuter in the community at large.
Polling figures captured by Ipsos Reid in 2008 indicate that 88% of cat owners in Canada have spayed or neutered their cats, which means the remaining 12% of owners (and the countless stray and feral "community cats") are causing 100 per cent of the problem.
Among the barriers most commonly cited by cat owners is cost.  This has compelled the BC SPCA to proactively encourage more municipal spay-neuter subsidies for low-income residents. Assistance is also available in a number of other communities through subsidies from the BC SPCA and other local animal groups.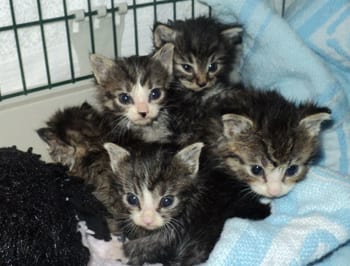 With 5,000 stray kittens appearing at BC SPCA shelter doors annually (accounting for one quarter of all cat intake), unmitigated breeding of unowned "community cats" is clearly another major driver in the homeless cat problem.  In order to stimulate grassroots solutions to this problem, the BC SPCA is hoping to benefit from local wisdom around B.C. through a new community grant program.
"Through a $75,000 legacy from a compassionate BC SPCA donor concerned about the suffering of homeless cats, the SPCA is distributing grants of $2,500, $5,000 and $7,500 to stimulate spay/neuter programs targeting community cats or low-income cat guardians," says Urton. The grants were available to registered animal charities, municipalities, veterinarians, First Nation's governments and tribal councils and the SPCA's own branches.
Says Urton: "If communities around the province begin to take ownership of cat overpopulation by participating in these programs, we hope to look back at 2012 as the high-water mark of the crisis."
These B.C. municipalities fund low-cost spay/neuter. Does yours?
Burnaby
Creston
East Kootenay Regional District
Fort St. John
Kelowna
Maple Ridge
Nanaimo
Quesnel
Visit our Spay/Neuter page to find out what you can do to help in your community.
The British Columbia Society for the Prevention of Cruelty to Animals is a not-for-profit organization reliant on public donations. Our mission is to protect and enhance the quality of life for domestic, farm and wild animals in B.C.