Carl is a poster cat for the success of a PetSmart Charities® of Canada grant in Campbell River, an initiative that saw the successful spaying and neutering of 1,500 cats in the region that has also resulted in a significant decline in the number of kittens entering the shelter.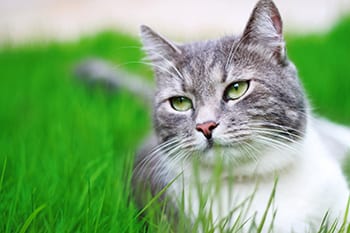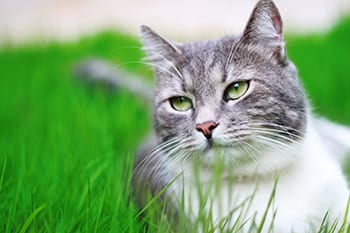 "This grant made it possible to provide services to cats in need who would not otherwise be sterilized during their lifetime, like Carl, a stray who showed up at a young couple's home," says Stephanie Arkwright, BC SPCA Campbell River Branch manager. The pair started feeding the cat, who had health issues, and when they were unable to locate his guardian, took him to their local veterinarian and learned about the grant-funded spay/neuter program. "With the costs of the neuter surgery covered, they were able to afford and proceed with the treatment of his other medical issues and now, Carl is an official furry member of their family," Arkwright says.
PetSmart Charities® of Canada awarded the branch the $157,920 grant in 2013 to help the community address the cat overpopulation crisis in the region – and the results are phenomenal, Arkwright says.
"This year we've only seen 28 kittens coming into our care so far, making it the first year we are not overwhelmed with kittens", she says. "It's amazing to see the impact the grant has had and we can't thank the community's residents enough for their support and participation in this program."
Although the focus of the grant was on owned cats, the branch was able to tackle several feral cat colonies in the region, for a total of 175 sterilized cats. One of the larger projects was the sterilizing of 60 cats in a local neighbourhood, both owned and feral, ensuring a significant impact.
A major focus of the BC SPCA's five-yearStrategic Plan is addressing B.C.'s massive cat overpopulation problem, as tens of thousands of outdoor cats are left to fend for themselves outside, suffering from illness, injury, starvation, predator attacks and more. When the grant program commenced, Campbell River was seeing an average intake of 945 cats a year. Thanks to the PetSmart Charities® of Canada grant, intake was down by 45 per cent in 2015 and is on track for a further decrease of 36 per cent in 2016.
"Even though we've seen a significant reduction in the number of unwanted stray kittens in Campbell River, the problem is not yet solved," says BC SPCA outreach coordinator Marieke van der Velden, who oversees the society's cat spay/neuter prevention programming for the province. "We continue to urge all residents to not only have their own cats spayed and neutered, but to also take action to ensure that all stray and feral cats in their community are fixed as well."
The BC SPCA thanks its sponsors, PetSmart Charities® of Canada, Campbell River Veterinary Hospital, Merecroft Veterinary Hospital, The Campbell River Mirror and 2DayFM 99.7 for their generous contributions.
Visit spayneuter.ca for more information.
The British Columbia Society for the Prevention of Cruelty to Animals is a not-for-profit organization reliant on public donations. Our mission is to protect and enhance the quality of life for domestic, farm and wild animals in B.C.