Thanks to a BC SPCA Community Animal Spay/Neuter Grant, the Lakes Animal Friendship Society (LAFS), a Burns Lake animal charity, has been able to help improve the community cat crisis in the area.
"Zolley and Dooey were two kittens born into a colony that we were able to get adopted into loving homes. They were trapped and fixed at ten weeks old, and were able to be socialized. With the funding we received from the BC SPCA we were able to get the mom spayed and prevent further kittens being born into this colony," said LAFS volunteer Alistair Schroff.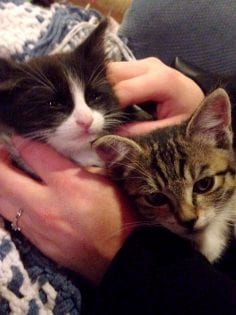 Having partnered with the BC SPCA on a PetSmart Charities™ of Canada grant in 2013 and having received a previous BC SPCA Community Animal Spay/Neuter Grant in 2015, the volunteers at LAFS are no stranger to the impact these grants can make and in 2017, LAFS directed its focus to a problematic colony the society hadn't yet been able to control.
"We wanted to use the 2017 grant money to get the numbers in this colony down for good and help the cats who still really needed it," said Schroff. "We had limited access to the site, which was a 'hot spot' for cat abandonment, so we knew a reduction in its population would mark a great achievement for us."
Although LAFS has been able to help this colony incrementally in previous years, the 2017 BC SPCA Community Animal Spay/Neuter Grant has resulted in the colony now being small enough for volunteer caretakers to maintain.
LAFS takes a unique approach compared to other small community animal charities. It focuses its efforts largely on education by visiting schools, providing resources and teaching community members to help build shelters for homeless animals, as well running the successful TNR (trap-neuter-return) program.
The society's community cat project was even incorporated into a children's book called Nobody's Cats, which was sent to B.C. schools, libraries and BC SPCA Kids Club members.
Despite the improvements the grants have provided, there is always work to be done, Schroff notes. LAFS continues to check in on the various colonies, engage in TNR programs and support caretakers as needed. Volunteers also keep an ear to the ground for potential new colonies to ensure their work is continued.
Learn more about the importance of spay/neuter at spayneuter.ca.