Since our alert about foie gras last month, we've heard from people across B.C. who were disappointed to see foie gras on the menu of their favourite restaurant.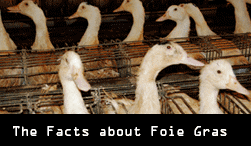 Please help the hundreds of thousands of ducks raised in tiny cages and force-fed daily in Canada by looking out for foie gras on restaurant menus. Tell your friends and family why they should not order it and write to restaurants who serve foie gras, asking them to replace it with a more ethical alternative.
The British Columbia Society for the Prevention of Cruelty to Animals is a not-for-profit organization reliant on public donations. Our mission is to protect and enhance the quality of life for domestic, farm and wild animals in B.C.