Thanks to the compassion and generosity of animal lovers, Biggy is doing much better these days.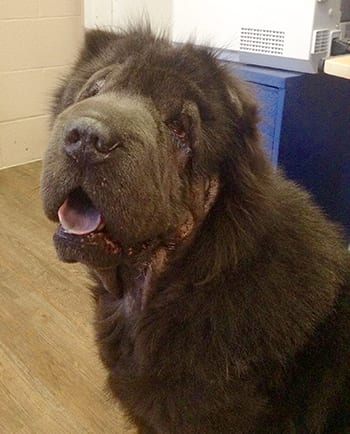 The Shar-pei, who came into the care of the Chilliwack SPCA recently with a massive growth hanging from his neck had the four-pound benign tumour removed last week. His condition and the necessary surgery prompted the Chilliwack shelter to ask the public for help in covering the costs for Biggy and all the animals in their care.
"We are so grateful to everyone who helped us out! We even received one large donation from Australia," notes branch manager Ivanna Ferris. "We would like to thank all of Biggy's supporters and well-wishers, as well as Dr. Mark Steinbach and his wonderful team at Valley Veterinary Services, who donated their time and effort."
The surgery took more than two hours and required 62 stitches. Post-operation, Biggy is doing "tremendously well," Ferris says.
"He is active and happy to be able to move around without the discomfort of the dangling growth," she says. "Now we're hoping we can find a perfect match with a loving, permanent home for Biggy."
Original story posted on Oct. 27, 2014:
Chilliwack SPCA seekshelp for dog with melon-sized growth
The BC SPCA's Chilliwack Branch is seeking the public's help with vet bills totalling more than $3,000 for a Shar-pei named Biggy who was taken into care during a recent animal cruelty investigation. The nine-year-old dog has a growth the size of a cantaloupe hanging from his neck and needs immediate surgery.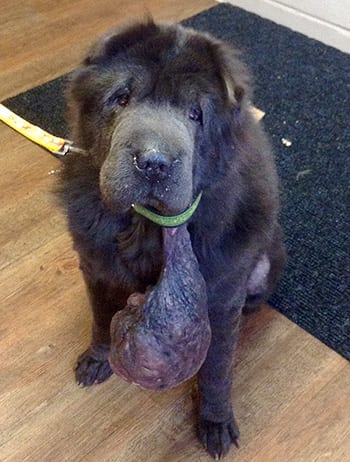 "Biggy also has bi-laterial entropia that will require corrective surgery as well as a diet-related skin condition," says Ivanna Ferris, manager of the BC SPCA's Chilliwack Branch. "He is such a friendly boy and really deserves to live out his years free from pain and discomfort." Ferris says SPCA investigators discovered that Biggy has been living with the massive growth hanging from his neck for nearly three years.
"We have already spent more than $600 on Biggy's blood work, medication and special food and we could really use help in making sure he gets the surgery he needs as soon as possible," says Ferris.
"As a non-profit organization, the BC SPCA is supported through public donations. Anyone who is able to help Biggy and other animals like him in need at the Chilliwack shelter can donate online or in person at 6797 Hopedale Road (Box 142), Chilliwack, V2P 6H7.
The British Columbia Society for the Prevention of Cruelty to Animals is a not-for-profit organization reliant on public donations. Our mission is to protect and enhance the quality of life for domestic, farm and wild animals in B.C.