No kitten – there's one part of the Vancouver International Film Festival (VIFF) cat lovers won't want to miss. The Just for Cats festival, a feline-themed fundraiser for the Canadian Federation of Humane Societies and the BC SPCA, is being hosted by VIFF on Sunday, June 26, at Vancity Theatre in Vancouver.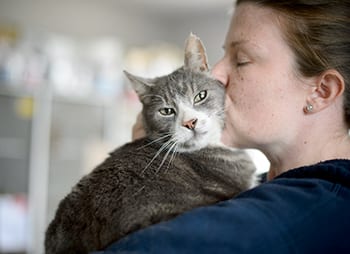 "June is cat awareness month across Canada and the festival is a great opportunity to celebrate our love of cats and to make a difference for those who are homeless and suffering," says Craig Naherniak, BC SPCA general manager of humane education. "Cats are more popular companions than dogs, with 36 per cent of all of our country's households identifying themselves as cat guardians.  On the flip side of that, there is still an overwhelming cat overpopulation crisis in B.C."
There are four showings featuring the best and funniest of cat videos on the Internet: 3 p.m., a special family screening with tickets only $6 for kids under 16; 4:35 p.m.; 6:15 p.m. and 7:45 p.m. Tickets can be purchased through the VIFF website, at viff.org, and at the door, and cost $12 for adults and $10 for seniors and students. All viewers must be members of VIFF, which they can purchase for $2 online with tickets or at the door, Naherniak notes.
BC SPCA cat-themed merchandise will be for sale at the festival, along with Vancouver Catfe coupons and a chance to enter a free draw for a cat-themed gift basket. There will also be 'guest kittens' on hand to help host the feline-focused event.
"Research shows that cat videos are good for us," Naherniak says. "They boost our energy and improve our mood, and when we share them, we're cheering others up, too. So why not come and enjoy them with family and friends while also supporting a great cause?"
For tickets or more information, visit viff.org.
The British Columbia Society for the Prevention of Cruelty to Animals is a not-for-profit organization reliant on public donations. Our mission is to protect and enhance the quality of life for domestic, farm and wild animals in B.C.