No one wants their cat spraying in the house. For Batman, a one-year-old feline from Opitsaht, a boat access-only community, getting neutered saved his nine lives, as his family had been considering  making him live outside when he started spraying inside.
"Outdoor-only cats don't live long in Opitsaht – it's a remote community with a population of free-roaming dogs that is also frequented by wolves," says James Rodgers, co-founder at the Coastal Animal Rescue & Education (CARE) Network.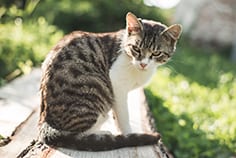 "Batman's story showcases how the BC SPCA Community Animal Spay/Neuter Grant was able to help get him the neuter surgery he needed to remain an indoor cat. Now he enjoys snuggles in bed with his humans and no longer sprays in the house."
The CARE Network started in 2011, when a group of neighbours came together to improve the life of a neglected dog in Tofino. Since then, the CARE Network has saved or radically improved the lives of more than two thousand animals on the West Coast of Vancouver Island.
"The remoteness of some of the communities – many are boat or plane access only – poses challenges to managing the outdoor cat population," Rodgers says.
He notes that the costs to monitor several populations – when cats need to be trapped and transported to a veterinarian that is typically a bumpy, ocean boat ride plus a two-hour drive through a mountain pass away – can add up fast and lead to unwanted population increases.
"The BC SPCA grant funding we have received through 2016 and 2017, just over $9,100 in total, has substantially helped us manage the cat population in our region," Rodgers says. "It helps make spaying and neutering possible for folks who otherwise might may not be able to afford to have these important surgeries done, and provided our organization the chance to address feral cat colonies in the area through trap-neuter-return."
Another positive impact he has noticed is that cat guardians in the area are asking more questions about feline health, inquiring about shots and day-to-day care.
"Folks seem to be getting more engaged and involved with the wellbeing of their cat companions, especially after the cats are fixed and that's great news – it is consistent with the CARE Network's experience that demonstrated care begets and catalyzes more care."