Humane education is an approach to teaching that puts an emphasis on kindness, empathy and respect for people and animals. Through the BC SPCA's  humane education programs, which reach thousands of B.C. children each year, the BC SPCA helps young people put themselves in the place of others and teaches them how to think and feel from another's perspective.
"The development of empathy, kindness and pro-social skills is crucial at all age levels in tackling bullying," says Craig Naherniak, BC SPCA's chief of social change. "Understanding that our actions can impact others both positively and negatively shares the message with young minds that while humans may have the capacity to cause harm to animals and the environment, we as individuals also have the power to make a difference."
Naherniak says research on the impact of teaching humane education to children shows that children who have participated in these programs score higher on empathy scales. "They also show an increase in prosocial skills, a better ability to regulate their emotions and more helping behaviours."
Through school presentations, Kids Club, summer camps and workshops across the province, BC SPCA's humane educators help students gain a deeper understanding of their place in the world by exploring the connections between animals, humans and the environment. So far this school year, the humane education team has already reached more than 10,000 students through in-person and virtual classroom presentations.
"What really inspires me in my work is seeing kids connect with animals," says BC SPCA humane educator Bailey Murphy, who works alongside her dog Rayne as a dog safety ambassador. "When we talk to children about ways to show kindness to animals, it opens the door to extend their thinking about showing kindness to everyone in their lives."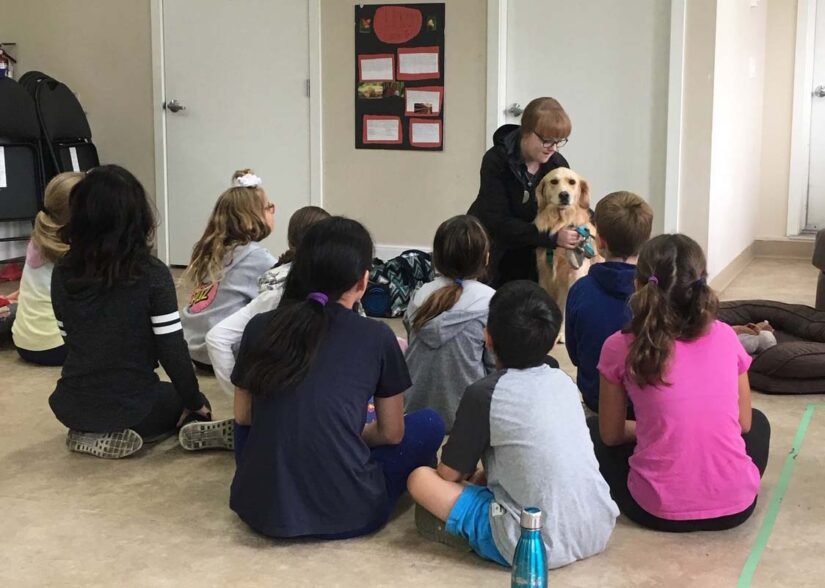 The importance of not being a bystander in the face of injustice is imparted on youth at all levels of the BC SPCA's humane education programming, and this has a big impact on how students view bullying. Learning about animal issues and developing ways to use their voices to take action helps youth develop the empathy and confidence to be ambassadors for kindness in their communities.
"I had a young camper join us in a program one year and I know she loved animals and really enjoyed camp," says Murphy. "But then at a much later date, I actually witnessed her walking her friend through the steps of safely and respectfully meeting a new dog. Knowing that these youth are really taking it all in, and seeing them share the knowledge with friends and family makes for such a warm and fuzzy feeling inside."
In addition to programs for youth, the BC SPCA also offers a wide range of free teacher resources for classroom use.