In early March, a thin looking, pregnant cat was found hanging around an apartment complex in Courtenay. A Good Samaritan took the cat in for the night and that same evening the cat had her kittens. The following day, they were brought to the SPCA and the cat was able to receive the medical care she needed. The kittens were taken into a foster home where they have the chance to grow big and strong before finding loving forever homes.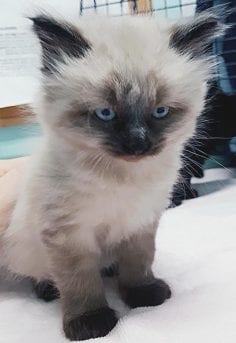 "These kittens were very lucky, because outdoor life is incredibly hard on kittens especially. Sadly, many do not survive. This preventable problem can easily be solved with British Columbians' taking responsibility for their cats by ensuring they are spayed or neutered by the time they are six months old", says Emily Priestley, manager of the BC SPCA's Comox Valley Branch. "Through spay/neuter programs, we are making this more feasible for low- income residents who want to do the right thing for their cat and cats in the community."
The SPCA branch has made significant progress in addressing cat overpopulation in the community thanks to a grant of more than $78,000 from PetSmart Charities™ of Canada.  Nearly 540 kittens and cats have been spayed and neutered at no cost to their caretakers since the program launched in January 2017. Now the program is coming to an end and the branch has funds remaining for a final 160 surgeries.
"With the program closing at the end of May, we are asking the community to help us achieve our goal and take advantage of this limited-time resource," says Priestley. "Spaying and neutering your pet is one of the best things that you can do to help cat overpopulation, but the decision also has benefits for cat guardians."
In addition to helping cat overpopulation, spaying and neutering also provides lifelong health benefits and behaviours such as spraying, roaming, fighting and howling often subside. Even if the cat is an indoor cat, his/her risk for developing common cancers of the reproductive system is significantly reduced, says Priestley.
"We urge anyone in the town of Comox and the city of Courtenay who has not fixed their cat yet to get in touch with us before the program finishes next month," Priestley says.
To pick up a voucher for a spay/neuter appointment or find out more, please visit the Comox Valley Branch in person at 1668 Ryan Road East or contact them at (250) 339-7722.
In addition to PetSmart Charities™ of Canada, the BC SPCA is grateful to the Courtenay Veterinary Clinic, Comox Valley Animal Hospital, Shamrock Veterinary Clinic and Van Isle Veterinary Hospital for assisting with the project by providing the spay/neuter surgeries at a discounted rate.