A Canadian senator and Canada's only Green Party Member of Parliament are supporting a new e-petition calling for the end of captivity of whales and dolphins, along with the BC SPCA.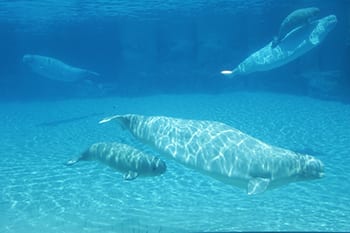 The e-petition, entitled e-167, is sponsored by Saanich-Gulf Islands MP Elizabeth May, and notes that whales and dolphins are "intelligent, social and roaming creatures."
"Scientific evidence shows that they suffer unjustifiably when kept in display tanks and the practice of keeping them in display tanks is plainly cruel," e-167 states.
It further calls upon the House of Commons to expeditiously pass Bill S-203, Ending the Captivity of Whales and Dolphins Act, which was tabled in the Senate by Nova Scotia Sen. Wilfred Moore, when the bill reaches the House of Commons. The e-petition will be formally introduced in the House of Commons if it receives 100,000 signatures by June 18, 2016.
"The BC SPCA recognizes the complex needs of cetaceans, and their highly sentient and social nature," says Dr. Sara Dubois, BC SPCA chief scientific officer.
"The society is opposed to the capture, confinement, and breeding of marine mammals for entertainment or educational display, as fully providing the animals with the Five Freedoms is not possible for wild animals who require large and diverse aquatic habitats to live. It is time to phase out these displays."
The BC SPCA also supports two other e-petitions that are open for signatures until April 2, 2016 and May 17, 2016, that support a Canada-wide ban on shock collars and a ban on the import or sale of cat and dog fur pelts, respectively.
To support and sign e-167, the ending cetacean captivity, visit:
https://petitions.parl.gc.ca/en/Petition/Details?Petition=e-167
To support and sign e-123, the dog and cat fur ban, visit:
https://petitions.parl.gc.ca/en/Petition/Details?Petition=e-123
To support and sign e-1, the shock collar ban, visit:
https://petitions.parl.gc.ca/en/Petition/Details?Petition=e-1
The British Columbia Society for the Prevention of Cruelty to Animals is a not-for-profit organization reliant on public donations. Our mission is to protect and enhance the quality of life for domestic, farm and wild animals in B.C.