The BC SPCA is providing pet guardians who were evacuated due to the flooding in Abbotsford pet food, crates, leashes, harnesses and other urgent supplies at the ESS Reception Centre at Tradex.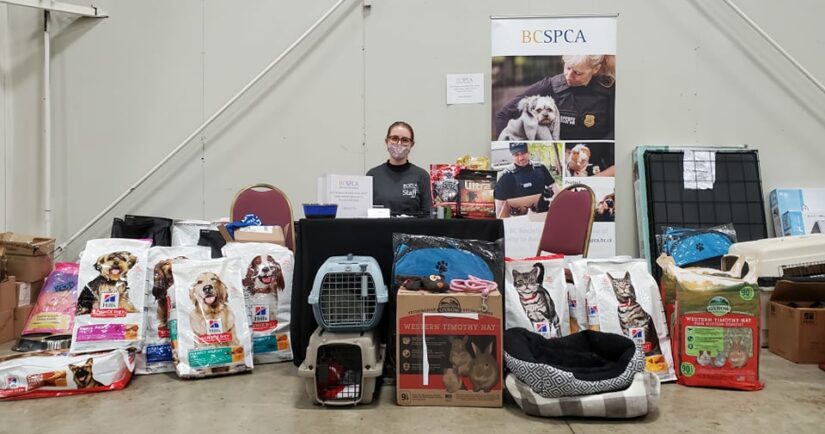 "People can simply come to our table and pick-up whatever they need," says Sarah Ringer-Vennard, Abbotsford BC SPCA Branch Manager. "If we don't have it, we will reach out to our suppliers to get it for them."
Local BC SPCA staff evacuated from the Abbotsford branch will be at Tradex, as will volunteers, from 9 a.m. to 5 p.m. with extended hours planned. Address: 1190 Cornell St, Abbotsford International Airport.
For people wanting to offer donations of supplies, with exception of Abbotsford location, please contact your local shelter to determine needs.
---
If you are an evacuee in need of emergency boarding, pet supplies or pet food or your farm has been impacted by the floods, please contact the following agencies:
---
Original story: November 17, 2021

The BC SPCA is working to assist pet guardians who have been evacuated due to the devastating floods in B.C.
"The BC SPCA has already begun emergency boarding for pets of evacuees at our location in Kamloops and we are providing supplies and pet food for those who have been displaced," says Geoff Urton of the BC SPCA. "Shelter animals are being transferred out of the Kamloops facility into other SPCA locations in the Okanagan to make more room for emergency boarding of incoming pets."
Urton says the BC SPCA has also provided emergency boarding for pets guardians who have been impacted in Abbotsford, Chilliwack, Langley and Cowichan. They are also working to provide evacuees with food, crates and other urgent supplies for their pets through Emergency Support Services centres as they are set-up.
Any pet guardian needing emergency boarding or other assistance is asked to call the BC SPCA Animal Helpline at 1-855-622-7722 between 9 a.m. and 6 p.m. After hours please contact your closest ESS at 1-800-585-9559.
Urton says BC SPCA officers are also standing by to assist Emergency Services as directed in the Fraser Valley and is in communication with the affected industries.
Due to recent flooding and evacuation orders, the Abbotsford BC SPCA is closed and all animals have been relocated to safe BC SPCA shelter locations.