Another year has come and gone, and as British Columbians bring in 2015, the BC SPCA is celebrating a successful year of spaying and neutering outdoor cats throughout British Columbia. A major focus of the BC SPCA's five-year Strategic Plan is ensuring that every cat in B.C. has a loving home, yet there are still tens of thousands of felines across the province who live outdoors, facing frostbite, starvation, illness, injury and predator attacks.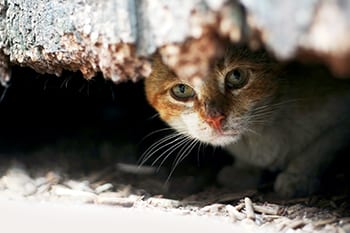 To help combat British Columbia's cat crisis, the BC SPCA works with donors, volunteers, veterinarians, partner organizations and cat advocates through several community programs designed to help spay and neuter outdoor cats, among many other initiatives.
"In 2014, the BC SPCA funded a record-breaking number of spay and neuter surgeries for cats in communities across the province – a total of 4,600 surgeries," says BC SPCA policy and outreach officer Amy Morris, noting that number does not include surgeries performed at the BC SPCA's spay/neuter clinics in Prince George and Kamloops and animal hospital in Vancouver. "That's up from 4,000 in 2013 and 2,150 in 2012. It is such great news! While we can't control the number of cats who are abandoned or born outside, we certainly do our best to reduce those numbers, which ultimately means far fewer cats who don't have warm, loving homes."
Reasons for the number of successful surgeries include:
Countless cat advocates trapping and feeding abandoned cats and their offspring living outdoors
60 veterinarians donating time and discounting their services
21 BC SPCA branches offering low and no-cost programs through private donations and grants
17 partnerships with other organizations, including non-profits, municipalities, regional districts and First Nations bands, to sterilize free-roaming cats living in colonies
Eight spay/neuter 'blitz' days where veterinarians and volunteers donated their time to get as many surgeries done in one day as possible
"We can't begin to express how grateful we are," Morris says. "We could not have made such an impactful change without all the people who made this possible."
Visit spayneuter.ca for more information.
The British Columbia Society for the Prevention of Cruelty to Animals is a not-for-profit organization reliant on public donations. Our mission is to protect and enhance the quality of life for domestic, farm and wild animals in B.C.