Craig Daniell, chief executive officer of The B.C. Society for the Prevention of Cruelty to Animals and other top BC SPCA officials will be in Powell River on Wednesday, July 25 for a sod-turning ceremony for the region's first-ever SPCA community animal centre. Construction of the new facility at 7558 Duncan Street begins this month and is expected to be complete by the end of 2012.
"For 30 years, a group of amazing SPCA volunteers, working from their own homes and with a network of foster families, has rescued and cared for thousands of abused, abandoned, lost and injured animals," says  Daniell. "As the community grows, this volunteer model is just not sustainable and the BC SPCA is committed to investing in Powell River and supporting the Powell River & District SPCA Branch through the construction of this community animal centre."  The society hopes the new facility will be open to the public by early 2013.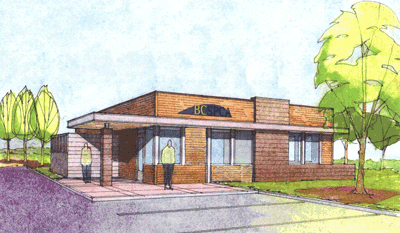 Photo caption: rendering of region's first-ever SPCA community animal centre
At a public referendum in July 2010, residents in the Powell River Regional District voted in support of a $75,000 annual contribution toward partial operating costs of the new centre. All land and construction costs for the new 2,000-square-foot facility – approximately $860,000– will be funded by BC SPCA donors.
"We are so grateful to the donors who have already made gifts to make the centre a reality and we hope the community will support the ongoing operational expenses for the centre once construction is completed," says Daniell. "There are so many animals in the region who urgently need help and as a charity we are reliant on community support to provide our services, which range from sheltering, low-cost spay/neuter and cruelty investigations to emergency medical care, cruelty prevention education and advocacy on animal issues."
Members of the public are warmly invited to join BC SPCA and local government officials at the sod-turning event, which begins at 11 a.m. on July 25.
Support for the project is still needed. Please visit spca.bc.ca/buildpowellriver to be part of this initiative and to help save animal lives.
The British Columbia Society for the Prevention of Cruelty to Animals is a not-for-profit organization reliant on public donations. Our mission is to protect and enhance the quality of life for domestic, farm and wild animals in B.C.