Their eyes may still be shut and their movements wobbly and awkward, but that just makes the baby raccoons now being featured on the BC SPCA's Wild Animal Rehabilitation Centre (ARC) cuter than cute.
The infant raccoons, who came into the BC SPCA's care after as orphans – often when harm comes to their mothers in the wild – are tiny but entertaining in their nursery, which is live-streamed 24 hours a day on the popular Critter Cam.
"It can be addictive – once you start watching these cuties, it can be hard to stop!" says BC SPCA chief scientific officer Sara Dubois.
There are currently six baby raccoons in two incubators being featured – the Critter Cam alternates between the two. Two were orphaned when the tree housing their den was felled; the other four are all victims of their mother being disturbed or evicted from the shed she was denning in, something that can often result in orphaned babies being left behind if done when the babies are still very young. After they grow older and stronger at Wild ARC, they will be released back into the wild.
Original story posted March 16: Take a peek at the wild side: cameras now live streaming at BC SPCA's Wild ARC
Ever wonder what wild animals do when they think no one is watching? Now you can find out. From playful raccoons and curious otters to birds, deer, mink and more, the cameras are now rolling at the BC SPCA's Wild Animal Rehabilitation Centre (ARC) on Vancouver Island.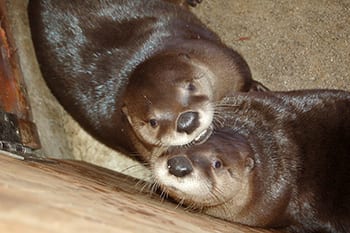 "We recognize that people want to see the great work we do, and we want to show them," says Sara Dubois, chief scientific officer, BC SPCA. "Because our job is to ensure there's as little human contact as possible to help Wild ARC patients recover and return to a normal life in the wild, live streaming their daily activities gives the public the chance to see them at their unsuspecting best – or worst – usually with food on their faces."
Wild ARC only opens to the public once a year, during their annual open house event – the 10thannual open house happens from noon to 4 p.m. on March 29 and 30 this year – and while the wild patients will not be on display to avoid stress, there will be educational raptors on site. With upgrades completed on many of the facility's outdoor enclosures and a new pool pen building that increases Wild ARC staff's ability to care for sea birds and aquatic animals such as river otters, there is much to see.
Each year, Wild ARC admits nearly 2,500 injured and orphaned wild animals from southern Vancouver Island, and helps approximately 140 different species of wild animals, Dubois notes.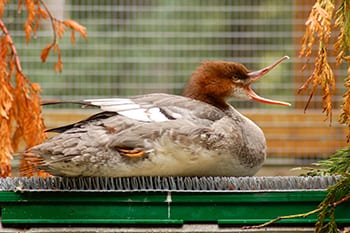 "There are five 'critter cameras' with one live streaming at a time," she says, explaining the live camera will be chosen by staff based on the best animal action at the time. Outdoor cameras showing the pool pen, flight pen, deer pen and raccoon habitat have night viewing as well. "Understandably, our critters are not trained actors, but when the baby raccoons arrive in May, for example, the camera in the nursery will be on."
Why not get a little wild? Launched to the public today, the Wild ARC live stream can be viewed 24 hours a day, seven days a week.
The British Columbia Society for the Prevention of Cruelty to Animals is a not-for-profit organization reliant on public donations. Our mission is to protect and enhance the quality of life for domestic, farm and wild animals in B.C.