Going to yoga can be good for you. Going to yoga with kittens and bunnies? Even better!
The BC SPCA Richmond Education and Adoption Centre has started holding yoga with animals classes to offer a healthy exercise option for animal lovers as well as the chance to feature adoptable animals who need 'fur'ever homes.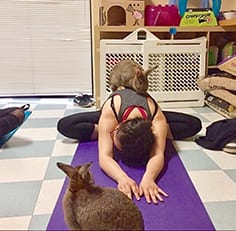 "So far, it's been a hit! We've had men and women participate and children seven years and over are also welcome," says Richmond SPCA assistant manager Florence Wong.
"You might have kittens running through your downward dog or bunnies resting on your child's pose – and we can't promise that you won't fall in love with an animal and want to adopt!"
The yoga classes help give adoptable animals more exposure to potential adopters and increases their social interaction with humans.
"Jack and Daxter, the two rabbits who helped us launch animal yoga, have been a huge help! They seem to love the company and the freedom to run around in a larger space," she says.
"We hope to eventually try cat and puppy yoga, but it really depends on who is in our care and, most importantly, if the animals are comfortable being in the lobby and around people."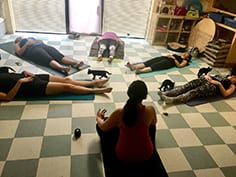 So far, the animal yoga classes are being held the second Sunday of each month from 9 to 10 a.m. and the last Wednesday of each month from 6:30 to 7:30 p.m. Certified, experienced yoga instructors lead each class. The next two classes are scheduled for July 9 and July 26.
To participate, people must call the Richmond SPCA at 604-277-3100 or email richmond@spca.bc.ca to reserve a spot, as space is limited. There is a minimum $20 donation required for admission.
"It would be great if the yoga classes helped Jack and Daxter find a loving home – they're a bonded pair who've been with us since last November and they're both such beautiful boys," Wong says.
"It's pretty cool to be able to do yoga with animals. We're hoping it will resonate with local animal lovers."