Phone:
(250) 549-7297
Emergency phone:
(250) 938-5406
(During operating hours) After hours: call your local police or RCMP
Animal Helpline (toll free):
1-855-622-7722
Address:
4800 Haney Rd, Vernon, BC V1H 1P6, Canada
Services offered:
Shelter, Takes surrendered animals, Adoptions, Kids camps/programs offered, Takes in stray dogs, Takes in stray cats, Takes in stray domestic small pets
Email:
vernon@spca.bc.ca
Please note, due to the volume of emails received daily we may not be able to respond immediately. Should you need urgent assistance, please call.
Hours of operation:
Hours of operation
Tuesday to Saturday:

12:00 p.m. to 4:00 p.m.

Sunday and Monday:

Closed

Stat Holidays:

Closed
Adoption fees*
*Fees vary by location and are subject to change without notice. Adoption fees are subject to PST (Provincial Sales Tax), which will be added at the time of adoption. All BC SPCA cat/kitten/dog/puppy/rabbit adoptions include a microchip and lifetime registration with the BC Pet Registry. Registration for lifetime protection is $45 for cats/kittens/dogs/puppies and $11.25 for rabbits, which will be added to the adoption fee. For more information please visit bcpetregistry.ca
Learn what's included in your adoption fee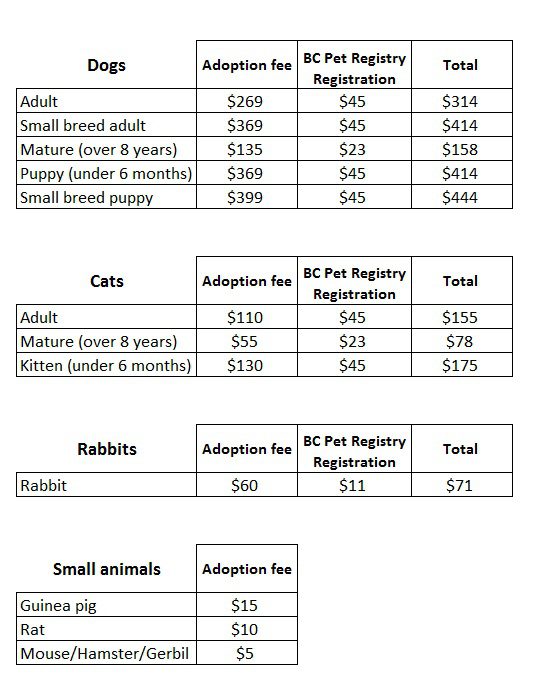 Vernon BC SPCA Centre: Permanently Closed as of Friday, November 17,  2023
Due to a number of ongoing concerns related to the structural integrity of the Vernon community animal centre, we have made the difficult decision to permanently close the facility effective November 17. The BC SPCA remains committed to serving the animal welfare needs for the City of Vernon and surrounding communities through other regionally based programs and services such as animal protection, youth education and community support initiatives, and through increased capacity at neighbouring animal centres in Shuswap and Kelowna. Learn more about this closure.