Services offered:
Adoptions, No physical shelter
Email:
100milehouse@spca.bc.ca
Please note, due to the volume of emails received daily we may not be able to respond immediately. Should you need urgent assistance, please call.
Mailing address:
PO Box 1948
100 Mile House, B.C.
V0K 2E0
Phone: (250) 395-5303
Serving the following communities:
100 Mile House, 70 Mile House, Bridge Lake, Clinton, Forest Grove and Lone Butte
Adoption fees*
*Fees vary by location and are subject to change without notice. Adoption fees are subject to PST (Provincial Sales Tax), which will be added at the time of adoption. All BC SPCA cat/kitten/dog/puppy/rabbit adoptions include a microchip and lifetime registration with the BC Pet Registry. Registration for lifetime protection is $45 for cats/kittens/dogs/puppies and $11.25 for rabbits, which will be added to the adoption fee. For more information please visit bcpetregistry.ca
Learn what's included in your adoption fee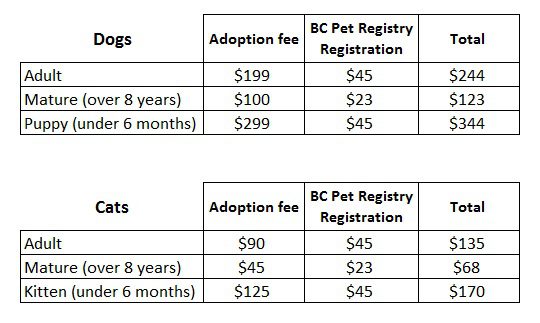 Welcome to the BC SPCA in 100 Mile House. While we do not have a physical location, we help animals in the community with our food bank assistance program.
Search adoptable animals available through our location >>
Respectfully acknowledging that the work of the BC SPCA in 100 Mile House takes place on the unceded traditional territory of the Secwepemcstín speaking Secwepemcúl'ecw peoples, including the Simpcw First Nation, T'exelcemc (Williams Lake Band), and Tsq'escenemc (Canim Lake Band) whose historical relationships to the land continues today.