Farm animals
The SPCA Certified program is a farm certification and food-labeling program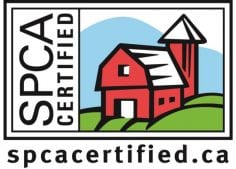 dedicated to improving the lives of farm animals raised for food in Canada. Products labeled with the "little red barn" logo come from farms that are annually assessed to SPCA Certified farm animal welfare standards by trained, independent validators.
SPCA Certified farmers do not use confinement housing (e.g. cages for chickens), they provide enrichment to the animals' environment and they ensure painful practices like dehorning and castration (neutering) are minimized or eliminated.
Learn more about the SPCA Certified program.