A farm must first be certified in the SPCA Certified program in order to be allowed to use the SPCA Certified label (the little red barn logo and claim statement) on certified food products. To become certified, the farm must undergo an annual on-farm assessment and third-party review to ensure compliance with SPCA Certified program standards (i.e. the program requirements).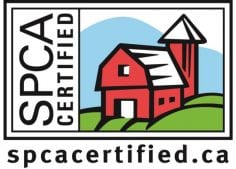 The Canadian Food Inspection Agency (CFIA) has approved use of the SPCA Certified label by SPCA Certified farmers on their certified products. However, certified farmers are not required to use the label, and some of them choose not to for various reasons.
The BC SPCA continues to work with SPCA Certified farmers to incorporate the program label on their certified product packaging, and continues to assist them in promoting their products via other channels (e.g. farm signs, websites).
To ensure the highest animal welfare standards are being met on farm, your best bet is to ask for, and look for, the SPCA Certified label on food products.
Get a list of current SPCA Certified farms.